Unity CEO's Comments About Game Devs Are Causing An Uproar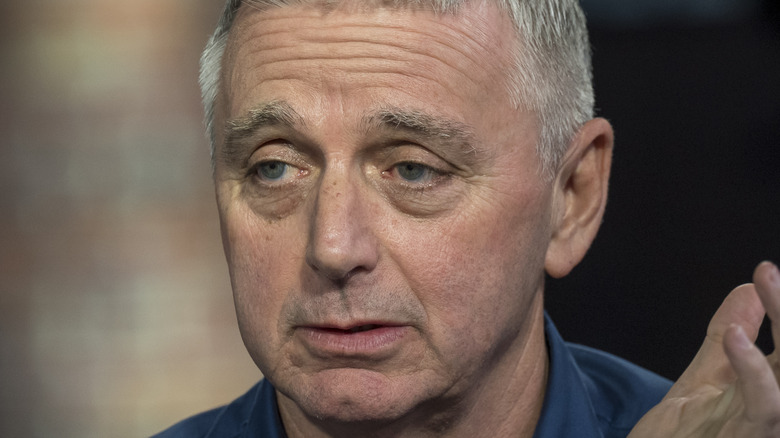 Bloomberg/Getty Images
Unity, the developer of the popular game engine used for games like "Pokemon Go" and "Valheim," is under fire from gamers and developers this week after some less-than-kind comments from its CEO, John Riccitiello. Speaking to PocketGamer.biz, Riccitiello said that mobile game developers who don't work monetization plans into their games early in development are "some of the biggest f****ing idiots."
Advertisement
The statement was made during an interview about Unity's recently announced merger with Iron Source, a company that specifically specializes in monetizing apps. As noted by James Troughton at TheGamer, the merger itself sparked controversy due to Iron Source's past of distributing malware. The decision to merge with such a company drew ire from observers on Twitter, including industry vets. Now, in seeking to explain and support the merger, Riccitiello seems to have generated even more animosity.
It doesn't appear that insulting anyone was Riccitelllo's intent. His comments were made in response to a question about Unity's move towards early monetization and the negative response from some developers. In the same statement, he also said that some of these developers of which he speaks are "the most beautiful and pure, brilliant people." He compared them to car manufacturers that still build vehicles the old-fashioned way, using knives and clay, but argued that developers shouldn't ignore opportunities to bring in more money. Still, regardless of his intent, the statement has offended many developers and their supporters.
Advertisement
Criticism of Riccitiello comments
Gaming fans and industry professionals have taken to social media to voice their objection to Riccitello's characterization. Among them were developers who were not happy to learn what the CEO apparently thought of them and their ethos. Some also took the opportunity to take a jab at malware while criticizing the comment. Some went so far as to suggest finding an alternative engine to Unity in protest.
Advertisement
Riccitiello has since issued a statement on Twitter about the controversy. While he has offered an apology and praise for developers, he claims the initial news story about his comment is "clickbait" and that his comments were taken out of context. It's not clear yet if this will settle the controversy, but a look through the replies to his statement would seem to indicate that many people still aren't pleased. "I think a real apology doesn't start with 'clickbait'" said one commenter.