How To Use Your Nintendo Joy-Cons On An iPhone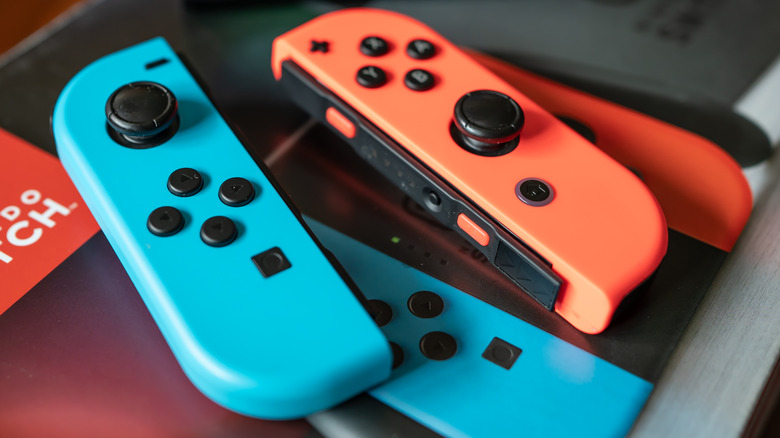 Wachiwit/Shutterstock
Nintendo Joy-Cons have lived out a troubled existence, as many a victim of the infamous Joy-Con drift will attest. Troubled legacy aside, gamers will prove hard-pressed to find a more intriguing controller design in the gaming market today. According to designer and producer Shigeru Miyamoto, Nintendo conceived of the Joy-Cons directly based off of player feedback on "Wii Sports" and "Wii Fit," two games tailored for the Wii Remote (per NintendoSoup). But those same Joy-Cons have acquired another use beyond Nintendo games. Apple introduced the beta for iOS 16, and it apparently supports Joy-Cons as controllers.
Advertisement
As noted by AltStore developer Riley Testut on Twitter, the beta for the new operating system has enabled connectivity with Joy-Cons. Even more exciting, according to tests conducted by 9to5Mac, Nintendo Switch Pro Controllers and a selection of non-Nintendo controllers became connectible as well. Notably, the Pro Controller already works with PCs, though it came with limited functionality initially. Pretty soon, anyone will be able to pair Switch controllers with their iPhone or iPad, provided they follow these easy steps.
Switching to mobile
As Testut depicted on Twitter, iPhone users need only navigate to the Settings app, go to Bluetooth, and hold the small SYNC button on each controller. Users will then have the option of pairing two Joy-Cons, one of them, or their Pro Controller.
Advertisement
Apple Engineering Manager Nat Brown demonstrated in his own Twitter thread how to link up and split Joy-Cons by holding the "Capture" and "HOME" buttons simultaneously. Brown also confirmed that Joy-Cons are compatible with tvOS 16, meaning Switch owners can look forward to navigating Apple TV with their game controllers. Of course, none of this functionality has been released publicly outside of those with access to the closed beta — yet. Most will have to wait for the formal arrival of iOS 16, which will probably release in September 2022 at the earliest (per MacRumors).
Joy-Con drift may be unavoidable at this stage, but at least gamers will have the ability to expand their controller options for iPhone games.
Advertisement