Sly Cooper 5: Will We Ever Get A Sequel?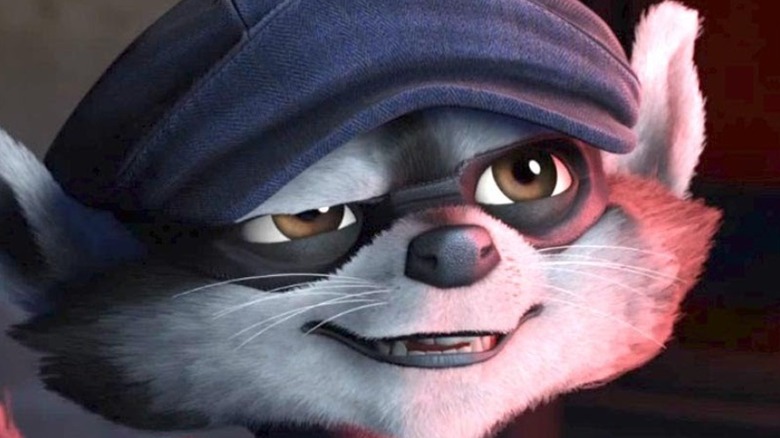 Sony Interactive Entertainment
When it comes to the stealth genre, games like "Metal Gear Solid," "Hitman," or the earlier "Assassin's Creed" titles are likely what first come to mind. But one of the more unsung heroes of the gaming sub-genre is the "Sly Cooper" series, a platformer-stealth hybrid that has largely maintained a strong following since its debut in 2002. Developed by Sucker Punch Productions — which has since gone on to create modern classics such as "Ghost of Tsushima" and the "Infamous" games — the series follows the titular anthropomorphic raccoon, Sly Cooper, and his gang as they engage in some cheeky thieving while being pursued by INTERPOL inspector Carmelita Fox (also Sly's love interest).
While the four-game series was once a staple in Sony's PlayStation-exclusive catalogue, the franchise has been dormant since 2013's "Sly Cooper: Thieves in Time," which ended with a cliffhanger that has yet to be resolved. Now that we are approaching nearly a whole decade without a "Sly Cooper" game, fans of the series have become desperate for news of a sequel. But when will such a game ever be released? Is "Sly Cooper 5" even on the table?
Sucker Punch has bad news for Sly Cooper fans
Sony Interactive Entertainment
For a while, the "Sly Cooper" fandom has been largely left behind, thanks to Sucker Punch Productions and Sony both focusing their efforts on other more contemporary projects and IPs. Fans were given some hope in the spring of 2022, when it was rumored that Sucker Punch was working on a new "Sly Cooper" game that was due to be revealed later in the year. Unfortunately, the company itself has since come out and offered some bad news in that regard.
On July 1, 2022, Sucker Punch issued a statement through its official website that touched on whether the company would ever make new installments of a few of its older series. "With our focus on our current project, we have no plans to revisit 'Infamous' or 'Sly Cooper' right now, and no other studio is currently working on projects related to those franchises either," the statement read. "These characters are very special and near and dear to our hearts, so while we'd never say never to re-opening those doors down the road, for now there are no 'Infamous' or 'Sly Cooper' games in development."
It's a gut punch to any fan of the legacy series, but judging by this statement, avid "Sly Cooper" players won't be playing with their favorite thieving racoon and his buddies any time soon.