Fall Guys' Bizarre New Freebie Is Turning Heads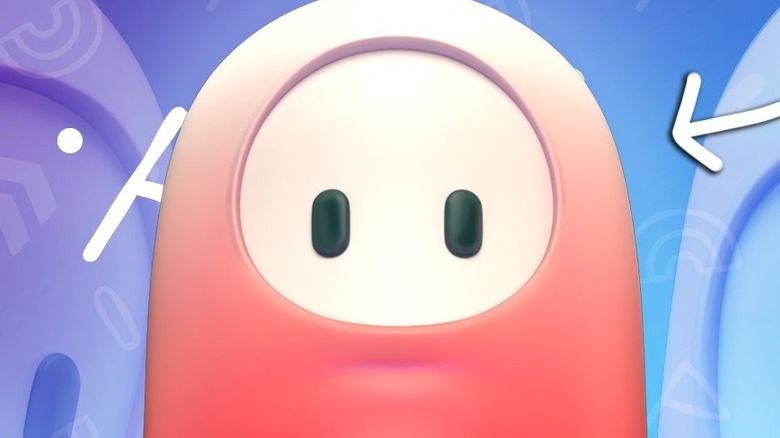 Epic Games
Players are always game for some new and free goodies in their favorite titles, but a recent addition to "Fall Guys" have left some players in shock. The title has undergone many changes since Mediatonic was purchased by Epic Games last year, transitioning to a free-to-play model and gaining new features like full cross-platform support. Since then, a number of new cosmetics have been introduced into "Fall Guys," — including Master Chief and Pusheen skins — but none have been quite as gutsy as the latest entry. "Fall Guys" has added a character skin that's shaped kind of like a certain part of the male anatomy, and fans are losing their minds. 
Advertisement
While the move may seem completely random, it actually seems to be in response to an earlier issue that cropped up in "Fall Guys." Earlier this June, players reported encountering a bug in the game that automatically purchased cosmetics previewed in the shop. Naturally, this didn't sit well with fans, but Mediatonic was seemingly resisting fans' demands for a refund. Some players even said that upon pursuing the issue, Mediatonic support reps would accuse them of lying, or else ignore the issue. 
And now that the dust has settled, Mediatonic appears to be making it up to players by — making a dirty joke via a new character?
Fall Guys' Tall Guy casts an awkward shadow
Mediatonic extended the olive branch today via a tweet that alerted "Fall Guys" players that "there's a BIG surprise in your inventory." The tweet was accompanied by a daunting image of a "Fall Guys" bean cowering in a corner, away from what is only identifiable by an imposing phallic-looking shadow on a wall to the side. The Twitter community was quick to pick up the opportunity and run with it, with commenters making plenty of innuendos of their own, like one fan who wrote, "Pictures can be misleading, it's not that big."
Advertisement
All this said, players don't have to worry about actually seeing others run around as competitive members in "Fall Guys," as the new skin is just a taller version of the classic bean — a "Tall Guy" named Grandis. However, regardless of what the true skin actually looks like in-game, Mediatonic may have opened a door that can no longer be closed. Those on social media have already started a storm of inappropriate memes that could become a part of the title's very identity — which would make sense, considering the fact that the "Fall Guys" Twitter account prides itself on its "spicy" tweets.