Epic Games Just Bought The Studio Behind This 2020 Hit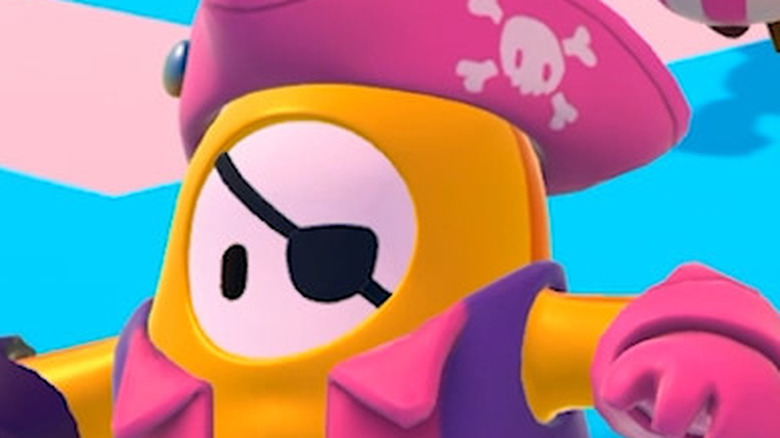 The Fall Guys Twitter account announced on March 2 that its developer, Mediatonic, has joined the Epic Games family. The acquisition is big news for Fall Guys fans, though it's unclear how significant the changes will be for current players.
Advertisement
This announcement comes on the heels of reports that Fall Guys would soon be moving to a number of other platforms. According to Mediatonic, the acquisition won't impact Fall Guys or its distribution. The game is still available on Steam and PlayStation and these platforms will receive future updates. Further, Fall Guys is still in the works for Nintendo Switch and Xbox.
Fall Guys: Ultimate Knockout is a popular battle royale-style game mixed with a heavy dose of quirky platforming. Players manipulate unwieldy and colorful jelly bean-like creatures across a series of obstacle courses and challenges. An immediate hit, the game rapidly gained popularity after being released in August 2020. Near the end of the year, Fall Guys hit a significant milestone when it sold over 11 million copies on PC. It's currently in its third season and is gearing up for Season 4.
Advertisement
Why might Fall Guys fans be hesitant about the acquisition? Epic Games has its own gaming platform, in direct competition with Steam. Interestingly, the Fall Guys game also uses Unity — a direct competitor of Epic Games' Unreal Engine. Acquiring popular games also isn't new for Epic. It previously snagged the hit game Rocket League, which was also met with mixed opinions.
On the other hand, Mediatonic has noted that there are a lot of features that it hopes the move will bring to Fall Guys, including "account systems, cross-play, squad vs. squad modes." It's also possible (though there's no official word yet) that Fall Guys might end up being free-to-play. This happened with Rocket League after its Epic Games acquisition.
On Reddit, users have responded with caution. Multiple people skeptically commented "RIP," while others were excited about cross-play potential. A quick visit to the game's Steam reviews page shows that multiple negative reviews have already been posted regarding the Epic Games acquisition. Comments include "gonna be Rocket League all over again I tell you," "Sold out to Epic Games," and "RIP Fall Guys."  
Nevertheless, the overall reviews on Steam remain "Very Positive." As Fall Guys: Ultimate Knockout moves into its fourth season, players will likely be able to see exactly what impact (if any) the acquisition has.
Advertisement