Final Fantasy 7 Is Causing A Headache For PS Plus Subscribers
Square Enix
One of the big advantages that Xbox has had over PlayStation in this generation of console wars is the Xbox Game Pass subscription service. This grants players on PC or any of the recent generations of Xbox consoles access to a library of hundreds of blockbuster titles for a low monthly fee. In an attempt to combat this, Sony has modified its own PlayStation Plus subscription into tiers: Essential, Extra, and Premium. Essential is basically the same as the old PS Plus, giving subscribers access to three free monthly games and online services, but the upgraded versions also grant access to an online library of games curated by Sony.
One of the new titles added to the service in July is the PS5 exclusive "Final Fantasy 7 Remake: Intergrade," a visually enhanced version of "Final Fantasy 7 Remake" that also includes a separate story called "EPISODE INTERmission" where the materia-stealing Wutai ninja Yuffie takes on the role of protagonist. In it, she goes to Midgar and plans a heist with Avalanche to steal a very special piece of materia from Shinra. Unfortunately, many subscribers who already own "Final Fantasy 7 Remake" have found that they are unable to claim "Intergrade" as part of their PS Plus service.
FF7 Remake owners can't download Intergrade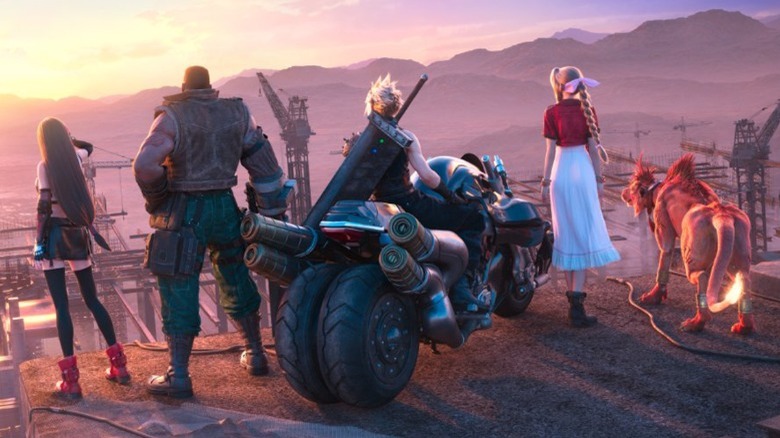 Square Enix
Apparently, this is something that has been happening in the PlayStation Store ever since "Intergrade" came out. Those who already owned the base "Final Fantasy 7 Remake" could not buy "Intergrade" through the store. Attempting to do so would trigger an error message stating, "You cannot buy this product for the following reasons: You already own the following products, which conflict with the product you're trying to buy: Final Fantasy 7 Remake" (via VGC).
This wasn't an issue in the past because Sony also offered a much cheaper $20 option for fans to upgrade from the original game to the new and improved version. Now, however, the full version of "Intergrade" is available for free as part of the PS Plus Extra and Premium subscription services, but the option to upgrade is not. This means the fans who already own the base game still can't get "Intergrade" without paying the $20 upgrade fee, even if they're PS Plus subscribers. This is especially troublesome, as many claimed the base game back when it was a free PS Plus option in March of last year.
"Final Fantasy Remake: Intergrade" is one of the biggest titles available through the PS Plus library, so it makes sense that many fans would be upset that they aren't able to download it. Especially since, for many, it may have been a deciding factor in why they chose to subscribe to the service in the first place.