Stray: How To Change The Cat's Color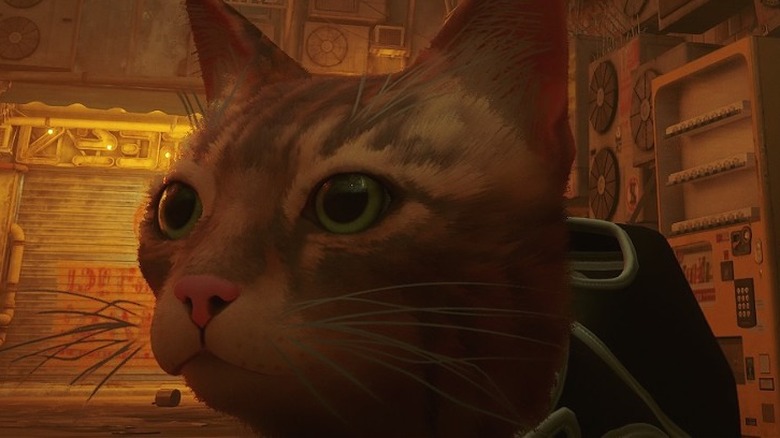 Annapurna Interactive
With more than 50,000 concurrent PC players upon its release (per Steam Charts) and impressive user scores on Metacritic, it's no exaggeration to say that "Stray" has become a veritable indie game sensation. The game has even earned itself two separate entries on the infamous "Can You Pet The Dog" twitter account — and while you can't pet the player character cat yourself, there are other cats and plenty of robots you can nuzzle in absolutely heart-melting animations. Even real-life cats love it as much as human players do, so much so that there's now a Twitter account of 30,000 followers dedicated to photos and videos of cats watching "Stray."
Advertisement
While some fans have been disappointed with the lack of character customization, it's no wonder why BlueTwelve Studios made that call. "Stray" isn't a story about cats so much as its the story of one particular cat navigating a post-human world and brightening the lives of many yearning robots on its way back home. Critics have been saying that — beyond the squeal-inducing accuracy of feline movement and behavior — "Stray" earns its stellar reviews with its unexpectedly poignant narrative of what it means to be alive, told through the eyes of one determined little adventurer. Despite being unnamed, this plucky and capable hero is sure to be joining Aloy from the "Horizon" series as a PlayStation-exclusive ginger icon who is as exceptional in heart as they are in appearance.
Advertisement
But, if you still really want to customize the cat for some reason, it's not entirely impossible.
Picking a custom cat texture in Stray
For the previously stated reasons, there are no official or in-game options to change the cat — but since the game is available on PC, mod-savvy fans have already gotten to work on adding custom options. The "Stray" Nexus Mods page lists 60 mods and counting as of five days past launch. Of these 60, 31 are from the "Cat" category — the dedicated grouping for alternate cat textures — all sporting various fur and eye color combinations. You can even make the cat a little chubbier, thanks to a mod that gives the hero some comfy housecat flub. There are also mods for hats, glasses, and eyepatches for those of you wanting to give the cat some stylish accessories.
Advertisement
Thankfully, the modding process isn't nearly as complicated as some other games: Installing a mod is as simple as placing the extracted file into the right location, no mod manager required. It looks like most mods come in a "pak" file, which can then be plugged into the "/HK_Project/Content/Paks" folder under the main game directory. PC players can go ahead and install a custom cat appearance, play in first person mode, or even replace the dedicated player meows with fart noises instead, if that's something they want — the world of "Stray" is the players' litterbox, and it looks like the modding community is just getting started.