What Barbie Would Really Look Like As A GTA Game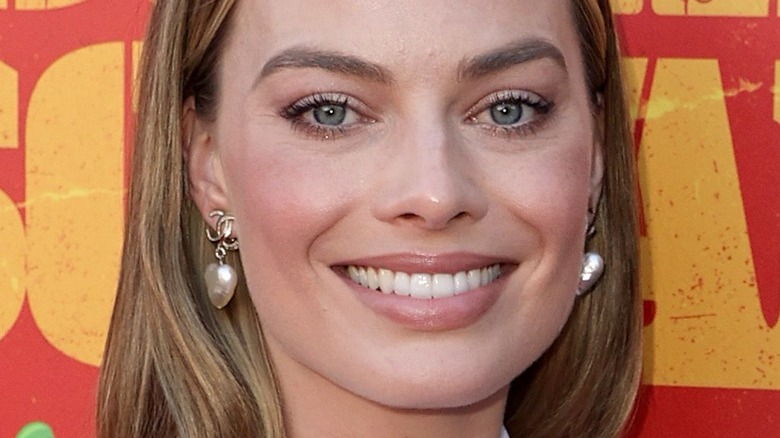 Kevin Winter/Getty Images
A lot of properties have had some unique film adaptations, but very few of them have captured the public's attention quite as much as the upcoming "Barbie" movie. Promotional stills for the film are full of the kind of bright lighting and vibrant color that fans would expect to see illuminating a Barbie girl in a Barbie world, with the all-star leads Margot Robbie and Ryan Gosling dressed from head to toe in neon shades of pink, blue and yellow. One image even features Robbie driving the character's iconic Pepto-Bismol pink Barbie-mobile. But what if Barbie got up to more illegal activities in her pink convertible? One artist combined everything Barbie with one of the hottest games in history.
The movie isn't set to release until July 2023, according to IMDb, and there isn't even a trailer yet, but just these few images have already inspired a level of excitement in the fanbase that is usually reserved for films about people in spandex saving the world. Many are curious about what kind of story the new "Barbie" movie will have. The source material is a toy-line after all, so there is a lot of room for interpretation. Will it be the safe and bubbly kind of movie that parents will want to take their kids to? Or will it explore the darker side of our hyper-consumerist society? BossLogic made his own poster for the movie that compared it to a franchise most wouldn't expect: "Grand Theft Auto."
BossLogic makes a GTA Barbie poster
BossLogic is known for his work creating and sharing digital art featuring iconic figures from all over pop culture. He also frequently uses these figures to create humorous crossovers between properties that would probably never come in contact with each other in real life, such as a Joker and Harley Quinn themed "La La Land" poster titled "Ha Ha Land."
His "Barbie" poster is designed to mimic the iconic jagged comic book panel style used in the cover art for the "GTA" franchise. The text "grand theft auto B" is stamped across the center using the squared-off "GTA" font for everything but the "B" which is written in the pink cursive used in the Barbie brand logo. Each panel features photos taken from the promotional materials of one of the characters from the upcoming film, only these have been color adjusted to have a more "Vice City" vibe and guns have been photoshopped into most of their hands.
As silly as it might seem, this concept isn't as far-fetched as it initially appears. Margot Robbie and Ryan Gosling certainly have the acting experience to justify casting them in a gritty action-adventure. Gosling recently starred in the Netflix film "The Gray Man," which, like "Grand Theft Auto," has a high degree of gun-toting mayhem. That's probably why BossLogic used the same shopped image of him from the "Barbie" movie to also make a parody poster titled "The Plastic Man."