Call Of Duty's New Character Clone Has Fans In An Uproar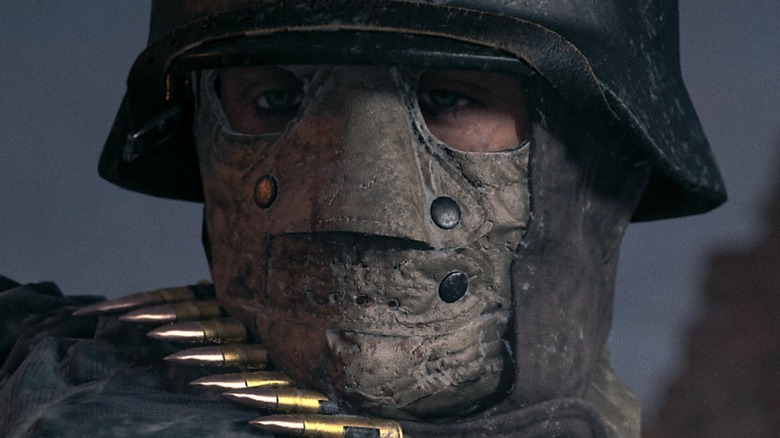 Activision
"Call of Duty" games often attempt to maintain player interest by introducing new modes and items to the game. One of the best ways to keep the game interesting for players is the introduction of new operator skins, especially novelty skins that are more fantastical than the average "Call of Duty" fare. Even though "Call of Duty: Vanguard" got off to a rocky start, the game has continued to sell, eventually finding its spot within the wide array of war-based titles. That being said, sometimes the game's publisher, Activision, makes choices that baffle fans. For example, the game's latest operator skin looks awfully familiar to one artist, who claims that the company used their artwork without permission to create a new operator skin.
Activision announced a new operator skin as part of the "Floof Fury" Tracer Pack. The bundle would include a new operator skin – an anthropomorphized Samoyed – and a variety of weapons, abilities, and trinkets. However, the pack advertisements and previews were removed quickly after an artist's plagiarism accusations about Activision went viral. Footage still remains on "Call of Duty" news sites, though, detailing what "Floof Fury" would have included. The pack, which would've been removed Aug. 3, has now disappeared from the internet. The artist who originally worked on the skin provided more context on their social media accounts.
Saillin explains the situation
Saillin, a concept artist working on a project featuring a variety of dog breeds as "Call of Duty" operators, accused Activision of plagiarizing their work and detailed their reasoning for the accusation – although it's not hard to see why they came to that conclusion. Saillin's project, called "Monster Army," included hypothetical operator skins of a variety of anthropomorphized animals, included a Samoyed soldier, among other animals, like a red panda and a polar bear. All of the animals in the project appeared ready to head into battle, with guns and "Call of Duty" style gear.
Interestingly, Saillin posted their first entry in the series over two years ago, a Doberman Pinscher wielding a gun. In their tweet targeted at Activision, Saillin said that they found out their work had seemingly been plagiarized at the same time the rest of the world did, when the skin was announced. "Even though I am also a COD player, I am very disappointed to see my work being plagiarized by a big company like Activision in this way," Saillin explained. They claimed they had attempted to contact Activision and work out some kind of agreement, but noted that "as an individual artist, I can only do so much, and I have to speak out about this to stop things like this happening again in the future."
Along with their message, Saillin also included side by side comparisons of their design and the "Floof Fury" bundle. In addition to being a Samoyed character, the "Floof Fury" design also included a similar scarf to Saillin's original design, as well as a nearly identical pouch, gun strap, elbow guard, and clothing. Very little seemed changed between the two designs, especially when images were set side by side.
This isn't the first time Activision has allegedly plagiarized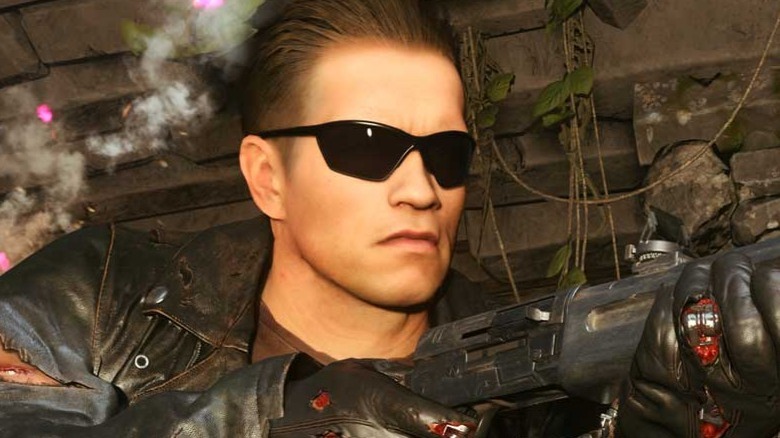 Activision
Fans of both "Call of Duty" and Saillin's work responded in kind, sharing their support and noting that this isn't the first time Activision has allegedly attempted to pass off someone else's work as its own. 
Previously, a character clone proved to be a big problem for Activision when author and professional photographer Clayton Haugen alleged that the company used a character he created in "Call of Duty: Modern Warfare." While Haugen's character was designed to be an operator in the games, the Activision did not approach Haugen about using the character, or ask permission to use his intellectual property. Haugen's character was copyrighted and used in both his photography and writing, which meant that Activision would have big trouble on its hands if the case wasn't settled quietly. Gamers were quick to point out other instances of alleged plagiarism, like Activision's use of a logo that closely resembled Amuro Ray's symbol in the "Gundam" series.
One gamer said that it's likely that Activision hires independent artists to design specific characters and that they trust these artists to use their own work, which may have led to accidental plagiarism. However, as another Twitter user explained, Activision is still responsible for the work it produces, no matter what kind of independent contractors are involved. 
Saillin quickly updated the "Call of Duty" community on the issue, writing, "Activision has contacted me, and I hope to have a result as soon as possible. Thank you for your concern." Saillin did not explain what Activision had said, or how they wish to proceed in the matter, they did note that they plan to protect themselves moving forward.