Jake Paul Meets Fallout In This 'Annoying' Mod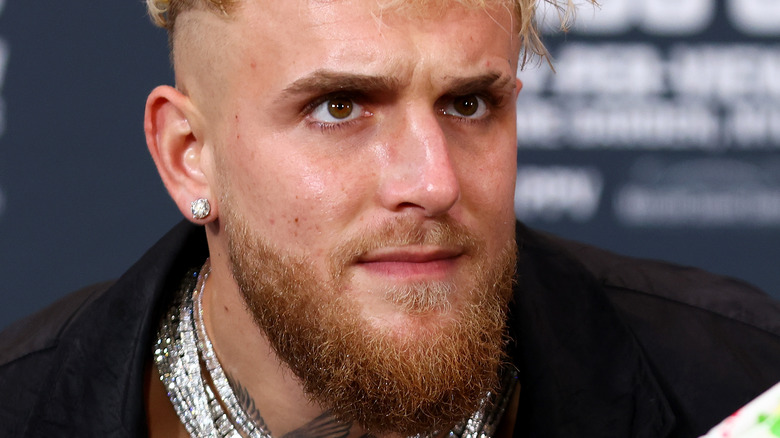 Mike Stobe/Getty Images
"Fallout: New Vegas" may have run into some issues at launch, but it still received positive reviews and continues to see a strong following among fans. The game remains popular today and has an active mod community working to keep the game fresh, adding new weapons, skins, mechanics, new locations and quests. Now, a new mod from creator Walmart Chifuyu has added something a little different — in the form of a new "annoying" boss that looks suspiciously familiar.
The newly released mod brings Jake Paul, the YouTuber-turned-boxer, to the wastelands of "New Vegas" as a super-aggressive NPC. Jake Paul, who was one of the highest paid YouTubers last year, can be found hanging out in a house in front of the Northern Passage and, appropriately enough, will be wearing boxing shorts and gloves. While this is a clear reference to Paul's entry into the world of professional fighting, it's worth noting that he will also be found near a dead NPC named Tyron Woodley. For those unaware, Woodley is an MMA fighter whom Paul has fought and defeated twice, the second time by knockout (per CBS Sports).
This take on Jake Paul is intended to be a new level of challenge for "New Vegas" players and, according to the mod's creator, should be nearly impossible to defeat.
Jake Paul becomes the toughest boss in Fallout: New Vegas
In the listing for the mod, Walmart Chifuyu explained that he wanted to make Jake Paul "something like a superboss." As such, the NPC will be extra fast and powerful enough to take out even high-level, well-equipped players in one hit. As if that weren't difficult enough, Jake Paul also has an astounding one million hit points. To put that in perspective, the Legendary Deathclaw, one of the toughest and most terrifying foes in the game, has only a thousand hit points.
This may seem like an insurmountable challenge, and it's likely few will ever be able to defeat Paul, but it looks like it will be worth it if you can pull it off. Conquering the YouTuber will net you 20 stimpaks along with his boxing shorts and boxing gloves, which will both sell for over a million caps.
So, if nothing else in the Mojave Wastelands is testing your skills anymore and you've seen it all, it may be time to become Eren Yeager and take on the titan that is Jake Paul. Just be prepared for a tough fight. And if this makes you a fan of Walmart Chifuyu's work, you may want to check out his other "New Vegas" mod, which allows you to play as Eren Yeager from the anime "Attack on Titan."