Everything We Know About YouTube's Game On Event
From its earliest days, YouTube has played host to tons of gaming-related content ranging from Let's Plays to reviews. Most recently, the platform has added a live streaming component which may even look better than Twitch right now to some creators. To celebrate gaming and the huge role it's played in YouTube becoming one of the most popular websites in the world, the platform will host its first "YouTube: Game On" event, which will be livestreamed to a worldwide audience on August 27.
Advertisement
"As a leading destination for gaming content, YouTube is hosting its biggest gaming special ever that celebrates the notable games, top creators, and popular trends that define gaming culture," YouTube said in a press release. The event promises to include over 60 of YouTube's biggest content creators and personalities, with figures like Markiplier, Sykkuno, Lachlan, and Dream — among many others  — making an appearance. "YouTube: Game On" will also feature several segments such as the "Hot Ones Challenge: Video Gamer Faceoff." Participants will compete against each other using an early demo of the upcoming "Street Fighter 6," with the losers forced to eat hot wings of escalating spice levels as punishment.
Advertisement
But that's not all "YouTube: Game On" has in store. Here's everything we currently know about the event.
YouTube: Game On will be interactive
While video content is the backbone of YouTube's sustained popularity, the conversations from each creator's fanbase play a role in making the website what it is. No big YouTube event would be complete without its fair share of fan interaction, and "YouTube: Game On" seems to lean into that, as live viewers will have some control over the event. "Gaming fans can view 'YouTube: Game On' and play along by voting in real time on unique gaming challenges and influence how the stream will play out," the press release detailed.
Advertisement
While the announcement didn't offer any specific scenarios that fan voting will have a hand in deciding, the language seems to imply that spectators will be able to vote from a list of options to determine which challenges will take place. It's an intriguing concept and could very well lead to some entertaining moments that will be immortalized on the internet.
Tons of featured games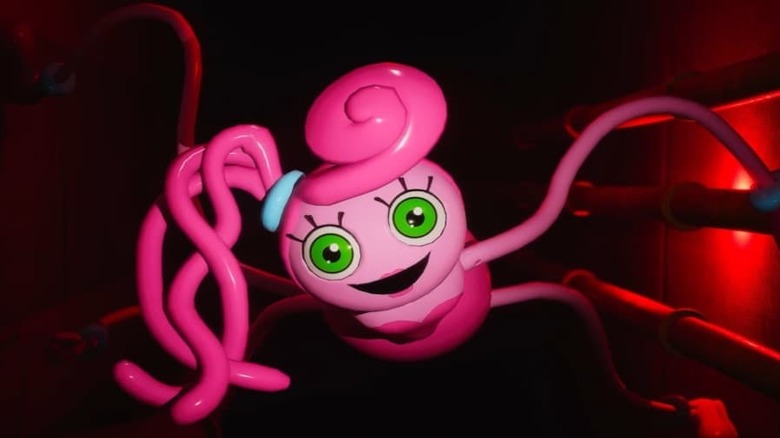 MOB Games
With the "YouTube: Game On" event advertised as a celebration of gaming and the culture surrounding it, it wouldn't be complete without tons of games. According to the press release, the event will put the biggest titles in the industry front and center, including "Among Us," "Fall Guys," "Fortnite," and "Grand Theft Auto 5." It will also feature content from the indie horror offering "Poppy Playtime," which will serve as the centerpiece in an event called "Grandma & Gran-Poppy Playtime" in which older adults try to resist falling victim to the game's notoriously horrifying jump scares.
Advertisement
"Poppy Playtime" has already been greenlit for a film adaptation and begun building hype for its highly-anticipated third chapter. Given the popularity of horror games, as well as YouTubers such as Markiplier playing a litany of scary titles in recent memory, "YouTube: Game On" could be a perfect place for entries like "Poppy Playtime" to announce future content drops to a massive audience.