Sonic's Most Infamous Urban Legend Is Becoming Real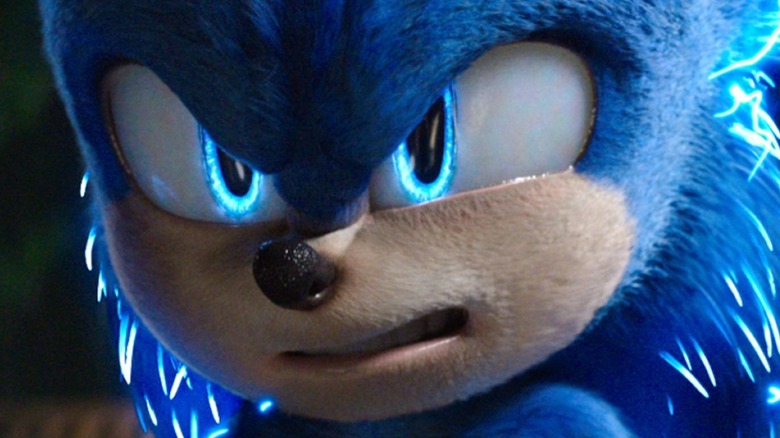 Paramount Pictures/Sega
The internet is full of terrifying urban legends and ghost stories. People love to scare themselves and each other by retelling stories of disturbing mystery and unexplained events, many of which have become known as "creepypastas." The website Creepypasta has become a forum for sharing these dark tales and, not surprisingly, more than a few involve video games. Over the years, gamers have shared many creepypastas that'll make you want to turn off your console, and one of the scariest is probably one involving a cursed version of "Sonic the Hedgehog."
The infamous urban legend tells of a boy who acquires an apparent PC port of "Sonic the Hedgehog," only to discover that the so-called "Sonic.exe" file is not the fun, lighthearted experience he was expecting. Instead, this Sonic is a murderous (and seemingly self-aware) character who hunts down and kills his friends over the course of the game. The speedy hedgehog may have done some terrible things in the past, but nothing compares to what the boy in this story witnesses.
And now, thanks to an ambitious fan, this tale of a dark version of Sonic is becoming real in a mod for the newly released "Sonic Origins."
Sonic.exe becomes a terrifying reality
Modder SonicsGamingHub has begun work on a Sonic.exe mod for "Sonic Origins," which can currently be found at GameBanana. The mod is still in progress and it looks like it will take some time to complete as the plan is to redo every level of all four games included in the "Sonic Origins" collection. Screenshots of the work in progress, however, offer an idea of what to expect.
In the first level, the once green and lush landscape has been transformed by an ocean of blood and withering plant life. The enemies appear to remain the same, but Sonic is no longer the friendly hero you may remember. Instead, he appears dark and angry. His eyes glow red and he appears to be weeping blood. This is clearly not the Sonic everyone knows and loves.
This mod looks to be an interesting experience for fans of "Sonic" and urban legends. While gamers probably won't get to experience the whole thing for some time — SonicsGamingHub has marked the project as only being about 5% finished — fans will be able to follow the development progress at GameBanana. In the meantime, fan can also check out a previous adaption of the "Sonic" urban legend over at ABGames. This version of "Sonic.exe " was developed by MY5T Crimson in 2013 and deviates a bit from the original story, allowing fans to play as other classic "Sonic" characters trying to chase down evil Sonic.