This Attack On Titan Fan Game Will Blow Anime Fans Away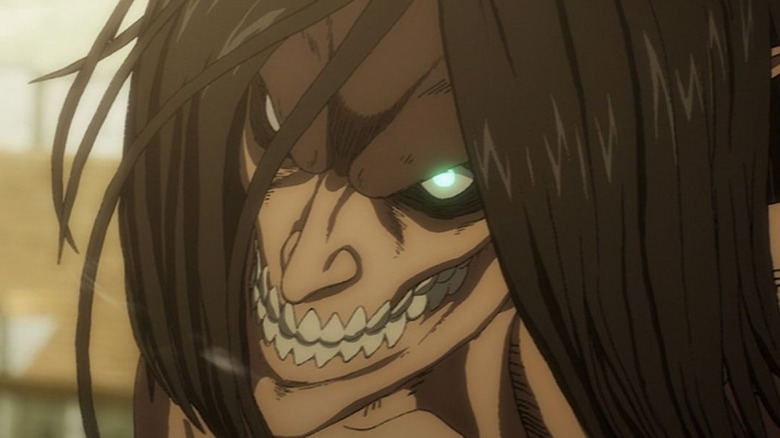 Funimation
One "Attack On Titan" fan has gone above and beyond, creating their own fan-made video game that is very impressive. Swammy posted a video on their YouTube channel detailing the journey they went on to create the "Attack On Titan" fan game. Swammy said that the project came about because, as a fan of the anime and the official "Attack On Titan" games, they were interested in seeing what a first-person "Attack On Titan" game would play like, resulting in the initial version of the project. The original version they released online didn't even have any Titan to fight, and just focused on a "Spider-Man" like traversal system.
Swammy shared the game on his TikTok account, with some videos getting millions of views. He continued working on the game, even managing to add a co-op mode to the game so players can zip around and fight Titans together. Swammy stated at the end of the video that he would continue working on the project, adding more character models and Titans in the future. While some fan projects end in disaster, like the "Club Penguin" fan project that resulted in arrests, Swammy's "Attack On Titan" project seems to be quite successful.
The Attack On Titan fan project got another popularity bump
A tweet from content creator Jake Lucky shared the project on Twitter, adding that Swammy is currently working on porting the project to Unreal Engine 5. The tweet got nearly 68 thousand likes and the video in the tweet has two million views, driving even more people to download and check out Swammy's game.
In the YouTube comments of Sammy's video, people seem quite pleased with the game itself and the progress that Swammy has made since releasing the first build. One commenter wrote "What a journey. You can just tell from the first version of the game that I downloaded back in early 2021 to now how far this game has come. It's been so cool seeing you and this game progress together." Many of the comments on the video praised both the "Attack On Titan" fan game and Swammy's skills as a one-person development team. Other comments requested new features be added to the game, like one person who asked for a PvP mode, in addition to new characters and areas. If you can't download Swammy's fan-made game, you can also check out the "Attack On Titan" character pack in "Call of Duty."