Call Of Duty Confirms Monster Crossover We All Suspected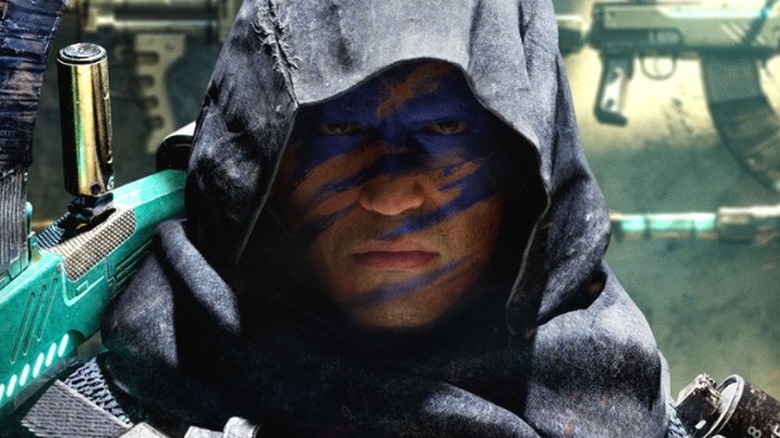 Activision
The latest season of "Call of Duty: Warzone" is winding down with the help of a Snoop Dogg skin, which arrived just in time for 4/20. Now Season 3 is just around the corner, and it looks to be one of the game's biggest yet — literally. Of course, some gamers may be disappointed that Activision didn't announce a new "Call of Duty," as many speculated, but it is embracing a crossover idea that fans already predicted. A recent "Call of Duty" blog post confirmed recent leaks that pointed to the arrival of Godzilla and King Kong. The classic monsters will be making their way to "Call of Duty: Warzone" and "Vanguard" next month.
Although, this isn't the first "Call of Duty" crossover involving giant creatures, as "Vanguard" and "Warzone" previously received an "Attack on Titan" bundle that included a character and gun skin. But now, a different type of Titan is coming to "Call of Duty," and the fictional Pacific Island of Caldera is the perfect setting for it too. In addition to these beloved kaiju, a slew of other changes are on the way that are sure to excite "COD" fans.
Godzilla and Kong join the fight
The new season will drop on April 26 at 9 AM PT for "Vanguard" and on April 27 at 9 AM PT for "Warzone." This will give players more than enough time to get ready for the arrival of Kong and Godzilla when the big "Operation Monarch" event drops on May 11. And it also looks like there will be plenty easter eggs and clues for players to find regarding the whereabouts of the monsters, such as artifacts and research posts.
In addition, Activision is adding new points of interest to Caldera in "Warzone." One of the biggest is Monarch Dig, located between the Mine and the Ruins in Caldera. The site features unearthed giant bones that will afford players new cover strategies. Additionally, Caldera will see the completion of the stronghold on top of Caldera alongside a new sandy path between the Lighthouse and the main island. However, players will have to wait and see if and how Kong and Godzilla themselves will interact with these locations.
There will also be a new Gulag, titled Hold, which will force players to rethink their usual understanding of the Gulag. Finally, a new Quads game mode will be coming to the battle royale, but no details have been released besides the fact that it will utilize the Titans in some way.
"Call of Duty: Vanguard" fans will also be pleased with the new season, as the game will get new weapons. The M1916 Marksman Rifle and the Nikita AVT: Assault Rifle will be available at launch, while an SMG and hammer melee weapon will be release sometime mid-season. And by the looks of it, Kong and Godzilla will also be coming to "Vanguard" — as Operator skins, rather than enormous monsters.