Halo Meets Yakuza In This Hilariously Bizarre Mod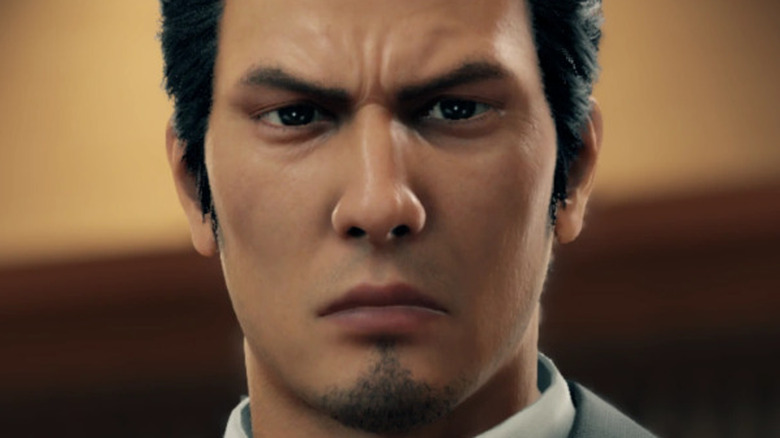 Sega
What if Master Chief was the star of "Yakuza 0?" "Halo" modder and content creator Kashiiera answered this question with a mod that replaces "Yakuza 0" protagonist Kazuma Kiryu with Master Chief. Instead of the sensitive, suited gangster, Master Chief ventures through the Tokyo underworld in all his green-armored glory.
Kashiiera shared the "Halo" meets "Yakuza" mod on Twitter, where their clip of Master Chief grooving at the club went viral. "I almost forgot to upload this," they tweeted with a video of Master Chief dancing on a multi-colored floor in "Yakuza 0." Kashiiera pulled off the hack by swapping Kiryu with Master Chief's "Halo 3" model but left everything else the same. It's simply "Yakuza 0" but with Kiryu in a Master Chief suit.
The Master Chief hack extends to the entirety of the game, not just a brief segment. The full gameplay preview on YouTube showcases Master Chief beating up grunts in different settings for 11 minutes. He plows through mobs of gangsters with Rush, Brawler, and Beast modes, and even pulls off the finishers. It's not perfect, but it's convincing — and it's just one of many "Halo"-themed mods Kashiiera has created for players.
Kashiiera's career in Halo modding
This may be Kashiiera's first mod for "Yakuza 0," but they have plenty of finished projects for the Master Chief Collection. Most fiddle with weapons and maps in "Halo 2" and "Halo 3." Some add weapons, vehicles, and HUD from earlier "Halo" games into later ones, such as the Revenant from "Halo Reach" into "Halo 3." Kashiiera also added the Danger Canyon level from "Halo: Combat Evolved" to "Halo 3."
In terms of "Yakuza 0" mods, they also tried replacing Kiryu's model with deuteragonist Arbiter from "Halo 2" and "Halo 3." "This is as good as it's gonna get," they said in a tweet. "Kinda hard to rig a alien to a human armature lol." You can see for yourself as Arbiter closes a car door on a yakuza's head before stomping it in. Kashiiera doesn't have a full mod for Arbiter, probably because of how difficult it was to match the model to Kiryu's movements.
"Halo" fans interested in playing Master Chief in "Yakuza 0" can download Kashiiera's mod from NexusMods. "Yakuza 0" is available for PC, PlayStation 3, PlayStation 4, and Xbox One. You can also get it via Xbox Cloud Gaming, Google Stadia, and Amazon Luna. If you'd like to see more mods and content from Kashiiera, you can support their work on Patreon.