The Iconic Video Game That Led To The Creation Of The M-Rating
Gory and sexualized video games became more widely adopted into gaming culture following the advent of the Interactive Digital Software Association — now the Entertainment Software Association — and the ESRB ratings system in 1994. Instances of outrage still occur: for example, as NBC News reported, former President Donald Trump blamed violent video games as a contributor to mass shootings in 2019, though the APA's research on video game violence has found no real connection between the two. Surprisingly, the M-rating and the ESRB itself did not come about from years of study and deliberation. It formed rather quickly, largely in response to a particular game.
"Mortal Kombat" began as an arcade title before it made the jump to SNES, Genesis, Game Boy, and Game Gear in 1993. While fans loved the original to bloody pieces, the release and marketing for the console version of "Mortal Kombat" prompted immense public outrage (via The New York Times). Lawmakers even threatened to create a government-run body for regulating games. The gaming industry overcame congressional scrutiny by establishing the ESRB, and the original "Mortal Kombat" became one of the first entries to earn an M-rating.
M for Mortal carnage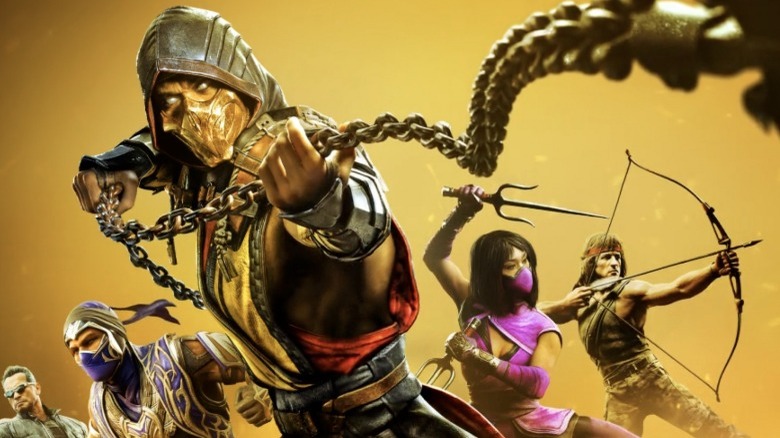 Warner Bros. Games
"Insert Coin" documentary director Joshua Tsui spoke with Polygon about the response to "Mortal Kombat" in the 1990s. "In the arcade, there were no parents walking around, so they had no idea," Tsui said. "When 'MK' came home, now what was a secret for the kids is now in the family room."
The high-budget marketing surrounding the "Mortal Kombat" console release fueled widespread horror among parents according to co-director Kelsey Lewin of the Video Game History Foundation. "'Mortal Kombat' was meant for mature, arcade-going audiences in theory," Lewin observed. "But commercials for home versions of the game featured kids."
Sharing in the alarm of some parents, then Democratic Senator Joe Lieberman decried titles like "Mortal Kombat" for what he perceived as encouraging brutality in children (per The New York Times). He served as one of the key individuals who brought violent games to the attention of congress, prompting the first iteration of the ESRB. The core ratings have remained mostly consistent to modern day.
Thanks to the ESRB, characters like Scorpion, Sonya Blade, and Sub-Zero stuck around to deliver more face-ripping, intestine-spilling fatalities. Eleven mainline entries in with hints of "Mortal Kombat 12" on the way, the series that pioneered the M-rating has remained a fan favorite because of its borderline-absurd brand of violence.