Minecraft Brought Back Steve's Beard And Fans Can't Get Enough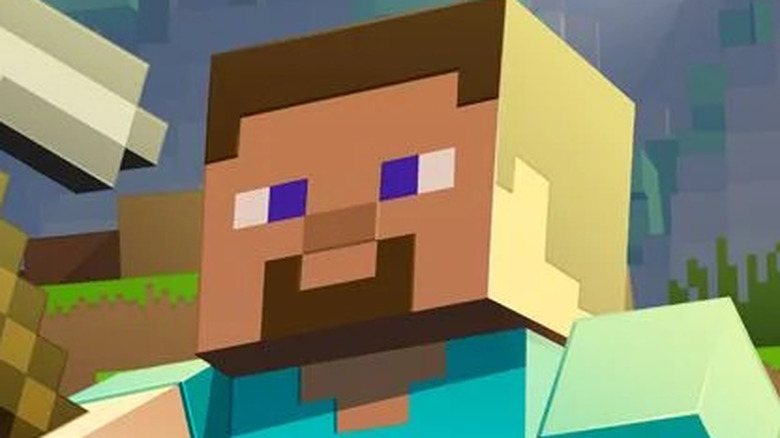 Microsoft
"Minecraft" is a global phenomenon. With millions of players worldwide and multiple spin-off games either already released or in development, like "Minecraft Legends," most people have seen the game or its art from at one point or another. That art typically includes Steve, one of the default skins in the game. Steve, who has appeared alongside Alex in "Super Smash Bros. Ultimate," has reached a point where he is almost universally recognizable, except for one small thing. For a long time, the marketing of "Minecraft" and even his character in "Super Smash Bros. Ultimate" featured Steve with a small beard. That beard has not been present in "Minecraft" itself for a some time, but it appears as though Mojang may have added it back in.
Advertisement
Over on Reddit, someone shared a side-by-side comparison of the updated models for the default skins, which gave Alex some improved textures. For Steve, it returned his facial hair, which had been missing for some time. One commenter explained that the beard was removed to make Steve more gender neutral, since Alex wasn't available in the game at that time. Fans of "Minecraft" were excited to see Steve get his beard back.
Minecraft fans are happy Steve has his beard back
The top comment on the Reddit post covers the community's feelings pretty well, stating that they understand why the beard was removed originally, but it's nice to have Steve's in-game skin actually match his design in art and other pieces of marketing. Another fan said that the improved textures and design really increase the quality of both Steve and Alex's skins. Others were just happy to see Steve get his beard back because it's what they prefer.
Advertisement
Others have trouble seeing the beard, writing, "I always see the beard as a big smile and nothing will change it." One person did point out that it is sort of odd that there is no announcement from Mojang or an official "Minecraft" source about the change, although others stated since most marketing material has Steve with the beard, it's more of a bug fix than a new feature. Not everyone feels the same about the beard, though, with a few people voicing their disdain for it. "Honestly I think he looks better without the beard. I understand the appeal of a goofy smile beard but to me it just looks bad," one person wrote. Most people seem to be happy with the return of Steve's beard and a more consistent look for him across the board.
Advertisement