Dead Island 2 Hell-A Edition: What's Included?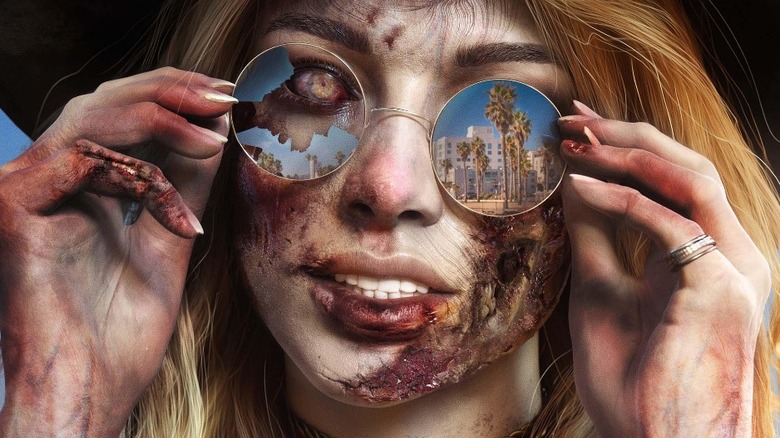 Deep Silver
We may receive a commission on purchases made from links.
"Dead Island 2" is officially on its way. The game was announced all the way back in 2014, but it had a somewhat rocky development cycle that left fans wondering what ever happened to it. Yager Development was hired to make "Dead Island 2" back in 2012 and it was announced at E3 2014 before numerous delays and creative differences led producer Deep Silver to fire the team. Luckily, Koch Media's CEO announced that the game was still happening and that developer Dambuster Studios would be taking over. Now, a new cinematic trailer has just released at the opening night of Gamescom 2022 that told fans they would finally get to play the game on February 3, 2023.
There are five different editions with wildly varying prices depending on which platform the player selects and whether they are interested in a digital or physical copy of the game: Standard Edition (PC-$59.99, Xbox and PlayStation-$69.99), Digital Deluxe Edition (PC-$64.99, Xbox and PlayStation-$74.99), Pulp Edition (Xbox and PlayStation-$69.99), Gold Edition (PC-$79.99, Xbox and PlayStation-$89.99) and finally the Hell-A Edition (Consoles-$99.99). This last one will come with the base game as well as the bonus Pulp Weapons Pack, Golden Weapons Pack, Character Pack 1 and 2 and an expansion pass. It will come in a steelbook and contain a few physical items as well. Pre-orders will also come with the Memories of Banoi Pack. Here's what all that means.
What digital content does the Dead Island 2 Hell-A Edition include?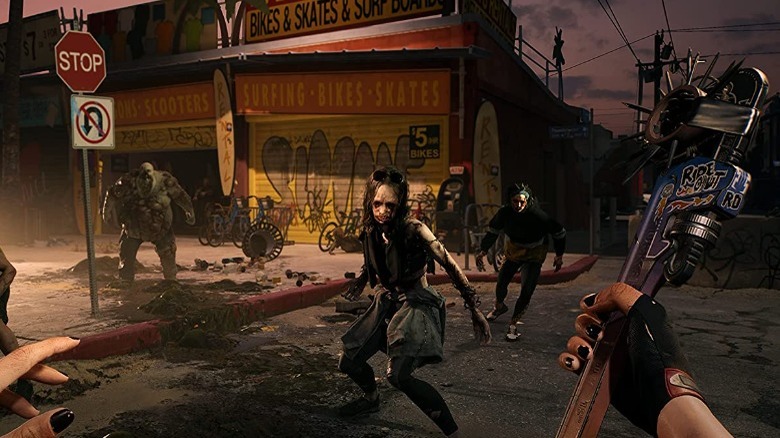 Deep Silver
The Hell-A Edition of "Dead Island 2" comes with the most bonuses of any version of the game. This includes several weapon and character packs. It is physical only, which means that it is only available to Xbox and PlayStation gamers — as there are no physical versions available for PC.
The Pulp Weapon Pack, is listed on Amazon as including a big, pink sledge hammer called The 'Homewrecker' and a black and yellow two-pronged pitchfork called The 'Eye Opener.'

The Golden Weapons Pack, is listed on the Xbox store as containing a golden pistol called Sam B's One Hit Wonder and a golden mace called Abuela's Ashes.

Character Pack 1 and 2, have had very little information posted about them, although the PlayStation and Xbox stores describe them as each "featuring a unique costume and weapon."

Expansion Pass, is also described in the PlayStation store. It states that this pass "gives access to two brand new chapters of the story coming after release," though it is still unclear what kind of stories these will be or how long after the game's launch they will be released.
Memories of Banoi, Also according to Amazon, this pre-order bonus comes with something called the Personal Space Skill Card and two baseball bats: a metal one called the Memories of Banoi Baseball Bat, and a carved wooden one called the Banoi War Club.
What physical collectables does the Dead Island 2 Hell-A Edition include?
All the digital add-ons are nice, but it's also fun to be able to hold a few goodies in your hands when you're shelling out a hundred smackeroos. The Hell-A edition doesn't come with a collectable figure or anything like that, but it does come with a few goodies that fans of gaming paraphernalia might enjoy. The banner description on Amazon lists these and showcases images of what's included:
Steel Case, which is decorated with a colorfully stylized drawing of a woman laughing as she swings a blood covered baseball bat with a saw blade bolted to the end at a group of charging zombies. 

Venice Beach Travel Map, which showcases a colorful depiction of the game's Southern California setting.

Six Tarot Cards, featuring each of the six playable zombie slayers from the game

Two Pins, one with a surfing shark and one with a pair of melting cherries

A Patch, which can be attached to clothing and says "Infernal" on it.
Players who order the Hell-A Edition will receive all of these in a box with the "Dead Island" symbol, (a skull with palm trees for cross-bones,) on it. "Dead Island 2" is currently available for pre-order and will be playable on PS4, PS5, Xbox One, Xbox Series X/S. Alexa Game Control, Stadia, and the Epic Games store.