Why MultiVersus Fans Think This Infamous Looney Tunes Meme Is Being Added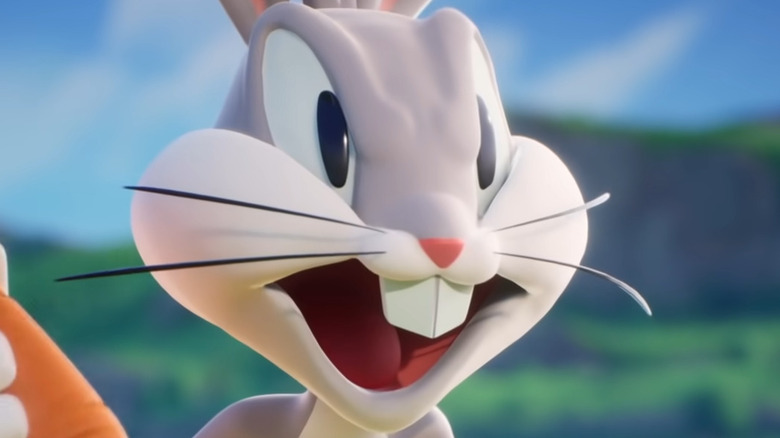 Warner Bros. Games
"MultiVersus" has taken off in the weeks since its release. Even with its perks (like free-to-play), players still hope that Player First Games will incorporate more funny content, like a skin for Bugs Bunny based on "Big Chungus," a meme version of the "Looney Tunes" icon. A new trademark could indicate that this dream will soon become a reality. 
The European Union Intellectual Property Office confirmed that Warner Bros. filed the trademark for Big Chungus on August 26, 2022. VGC reporter Andrew Marmo was one of the first gaming journalists to notice, citing the European IPO link about the Big Chungus trademark on Twitter.
Big Chungus is from a "Looney Tunes" cartoon segment where Bugs Bunny mimics Elmer Fudd. According to Know Your Meme, Redditor GaryTheTaco edited the title "Big Chungus," along with the image of Bugs Bunny, onto a PlayStation game cover, spawning the now infamous internet sensation. Explaining how the meme took off, GaryTheTaco said, "[It] got popular because a clueless mom asked a GameStop employee if they had it in stock, like the Battletoads trend."
Twitter user @jeffreyjtd28 tweeted at Warner Bros. and Player First in June regarding the possibility of a Big Chungus skin in "MultiVersus," and fans continue to back the suggestion. Though the recent trademark does not mention the crossover fighting title by name, instead focusing on use of Big Chungus across multiple mediums, goods, and services (including video games), some players still think the meme could arrive in the near future.
Will Big Chungus come to MultiVersus?
While many players were excited about a possible Big Chungus skin or emote for "MultiVersus," others weren't impressed. Some were even scared about the character being used for NFTs – a legitimate concern, as Warner Bros. listed NFTs under the possible goods and services on the trademark.
"Big Chungus has appeared in a mobile game before, so it's nothing new," one commenter said, pointing out that "Looney Tunes World of Mayhem" already added Big Chungus as one of its heroes in the past. There were apparently three variations of Big Chungus for the title. 
Another user noted that a memeworthy skin for one of the starting "MultiVersus" characters isn't too hard to believe, though they pointed out that there could be another explanation. "I feel like Big Chungus in 'Multiversus' is very likely since they have been doing haha funny memes from like 4 years ago, but I also feel like this could just be updating stuff for 'World of Mayhem,'" they tweeted. 
There aren't any official leads on when (or even if) players should expect Big Chungus in "MultiVersus." There are lots of other ways Warner Bros. could use the meme.