The Actress Who Played Quiet In Metal Gear Solid V: The Phantom Pain Is Gorgeous In Real Life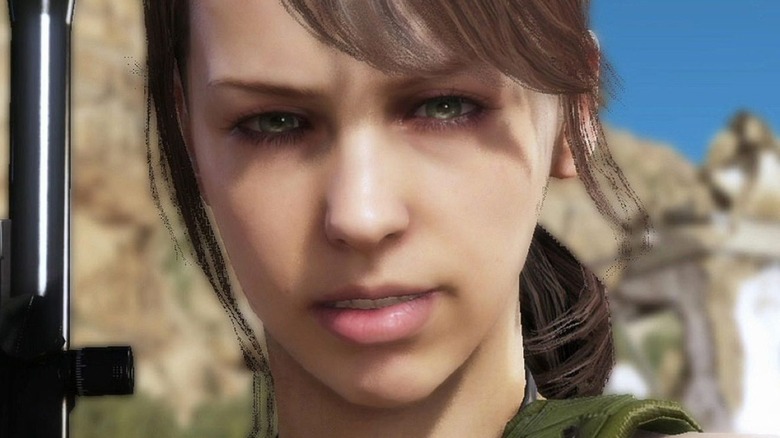 Konami
"Metal Gear Solid 5" released in 2015 and immediately became a smash hit with critics. Creator Hideo Kojima's final entry in the series before his split with Konami, it concluded the tale of Big Boss and brought some closure to the Metal Gear Solid saga. While the series did have its rise and fall, the primary entries were consistently well received and remain a major part of Kojima's legacy.
In addition to concluding Kojima's story of honorable soldiers, nefarious villains, and complex and inscrutable conspiracies, "Metal Gear Solid 5" also introduced fans to Quiet. The mysterious assassin and adversary turned ally proved to be an intriguing character and a fan favorite in a series full of great heroes and villains.
Despite bearing the name Quiet, this character actually had quite a bit of dialogue throughout the game, provided by actress Stefanie Joosten. As it turns out, the actress who lent her voice to Quiet is just as gorgeous and intriguing as her digital counterpart.
Joosten didn't know she was auditioning for a Metal Gear Solid game
Joosten's acting career began in 2011 with small parts in music videos. She would later land a role in an episode of the Japanese miniseries Gekitsui. Her big break, however, was landing the part of Quiet and "Metal Gear Solid 5." While this would prove to be a major role for her, Joosten, as it turns out, didn't even know that was what she was auditioning for when she showed up. 
As Joosten told the Dutch newspaper Het Parool (translated by Metal Gear Informer), she was living in Japan and working as a model at the time. She was offered a chance to try out for a part in a video game but didn't get any other details. Being a gamer, she suspected what the part might be when she saw Kojima himself at the audition. She also claimed her background as a gamer was an asset to her in the audition. When asked to grab a prop weapon and act out a stealth scene, she tried to mimic what she saw in her games while the other performers "didn't have a clue at all."
Joosten's performance would land her the role and she would go on to voice Quiet as well as do motion capture to add her movements and appearance to the character.
Joosten is trilingual and has serious nerd cred
Joosten should have plenty of future opportunities as a voice actress, as she speaks three languages. Raised in small town in the Netherlands, Dutch is her native language. She also learned English growing up and spent a year in Japan before returning home to finish her bachelor's degree in Japanese Studies. Joosten told Tokyo Insight Magazine "started getting interested in Japanese culture, mostly through games and anime." After finishing college, she felt drawn back to Japan and ended up moving there to fully immerse herself in the culture. 
While back in Japan, Joosten earned her master's degree and discovered modeling (via Metal Gear Informer). Modeling allowed her to support herself and she made Japan her new home. From modeling, she was able to make the jump to acting with "Metal Gear Solid 5" and she has since found more work in video games. She has made good use of her multilingual abilities, recently performing both the English and Japanese voiceovers for the Chinese game "ICEY."
It was originally video games that drew Joosten to Japan and Japanese culture, and she speaks fondly of her memories of playing "Final Fantasy" games and the original "Metal Gear Solid." She's also apparently a fan of the "Kingdom Hearts" series, as she's named her two dogs Mickey and Sora. 
Between her language skills and her love of gaming, she seems to have chosen the perfect profession for herself.