Rare's Lost Game Boy Challenger Finally Found After Over 30 Years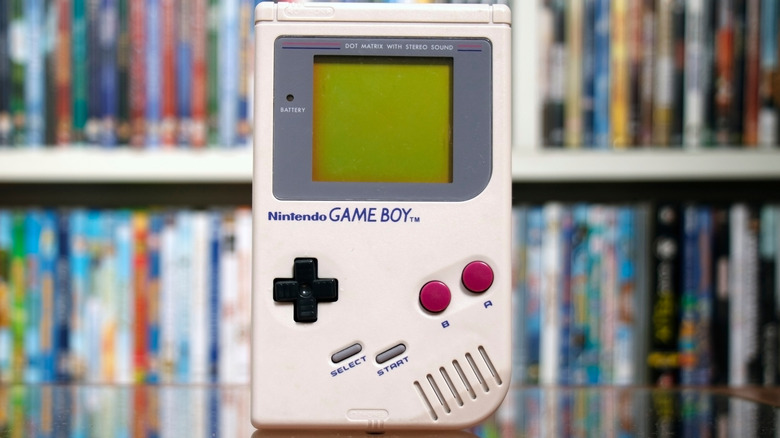 Dado Photos/Shutterstock
The Nintendo Game Boy dominated the console market when it launched in 1989 (via Smithsonianmag). The system famously brought 8-bit gaming to handheld and featured iconic titles such as "Super Mario Land" and a portable version of "Tetris." Its impressive library of games, abundant number of accessories, and portability propelled it to a top 3 spot on the highest-selling console, with over 118 million units sold. But it wasn't without competition, as systems such as the Sega Game Gear were made as a direct response to the Game Boy, but never experienced the same success.
Advertisement
In 2016, hardware fans learned that another games company, Rare, took a shot at a handheld console around that same time (via Redbull). For the uninitiated, Rare is the video game developer responsible for game series such as "Battle Toads" and "Banjo-Kazooie." But before it was a Nintendo partner, Rare took a stab at the handheld gaming market.
According to producer and software engineer at Rare, Paul Machacek, Rare's handheld console never came to fruition mainly because when the team attempted to present it to Nintendo, the Game Boy was unveiled at the very same event. As a result, the team decided to scrap the project, and soon after, the prototype was lost. But recently, the portable console prototype that could have challenged the Game Boy was recovered, and its unique look and name are turning heads.
Advertisement
The Playboy
On August 31, news outlet Time Extension revealed that the Rare portable handheld titled "The Playboy," was recently recovered and is being kept at the Retro Computer Museum in Leicester after current employee Pete Cox allowed the museum to showcase it. As for why the device got the name Playboy, Paul Machacek said it was given to the device as a joke. In addition, Paul Machacek listed a few more reasons the device never came to fruition, including the fact that it was heavy and needed six batteries to function, three times as many batteries as the Game Boy.
Advertisement
When the casing is opened up, spectators can see why the device needed so many batteries, as it was powered by a shrunk-down version of the RAZZ arcade board. Rare worked on the RAZZ arcade board for some time before the developers decided to scrap it (per RedBull). And according to Machacek, the RAZZ board gave the Playboy better visuals than the NES. These graphics would undoubtedly be impressive at the time for a handheld.
Unfortunately, hardware fans can't take a peek at the Playboy's graphics, as the console is non-operational. But according to Time Extension, RCM has gotten permission to attempt to fix the device and get it working again, so there is a chance gamers can see what could have been soon.
Advertisement