Borderlands Boss Randy Pitchford's New Auction Has Fans Scratching Their Heads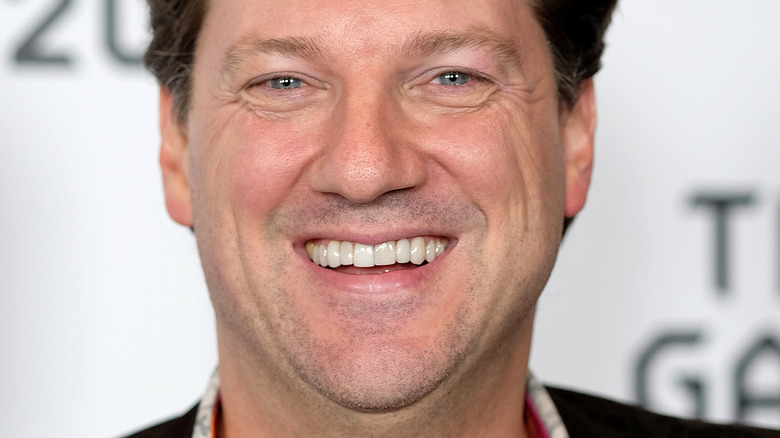 Matthew Simmons/Getty Images
Do you like supporting charity? Are you a fan of eye-catching shirts? Do you like to wear used clothing that once belonged to a CEO of a major video game developer? Then Gearbox wants you to know that it's holding an auction that's right up your alley. Last week, the company announced an auction set to run until September 9 to support the Entertainment Software Association's scholarships for students pursuing a career in games development. While the cause is notable, what really has people talking are the items being auctioned off.
Observing that fans have commented on CEO Randy Pitchford's unique shirts over the years, Gearbox explained that it had decided to auction off some of those shirts. The garments are, well, unusual, and many have chosen far more critical descriptors. John Walker at Kotaku called them "horrible," and Zarmena Khan at PlayStation Lifestyle called them "ugly." One Twitter user even compared them to the shirts featured in a sketch by comedian Tim Robinson. Meanwhile, Reddit was full of commenters who couldn't seem to believe this was a real thing or imagine anyone wanting one of Pitchford's used shirts (or any other article of his clothing). 
The auction is currently taking place on Bid Beacon and users need to create an account to take part. Anyone interested still has three days to get in on the action and there are 47 different shirts to bid on.
Auctioning used shirts for charity
The auction may have some scratching their heads but it already seems to have attracted bidders. Most items have multiple bids and, with all the shirts listed as having an approximate value of $400, this auction could raise a significant amount of money.
Randy Pitchford himself may have a shady side and has even been counted among a growing list of terrible people who created respected video games. Various parties have accused him of misdeeds in the past, ranging from conflicts with voice actors to outright illegal activities. He even threw the "Borderlands" publisher under the bus for the lack of cross-play in the series' third numbered entry. Despite the controversies, it seems his taste in fashion might lead to some good in the world.
Observers will have to wait and see how this auction plays out and just how much money it raises for charity. If the shirts end up valued based on the complexity of their patterns, it could be a small fortune.