The Actress Who Plays Tali In Mass Effect Is Gorgeous In Real Life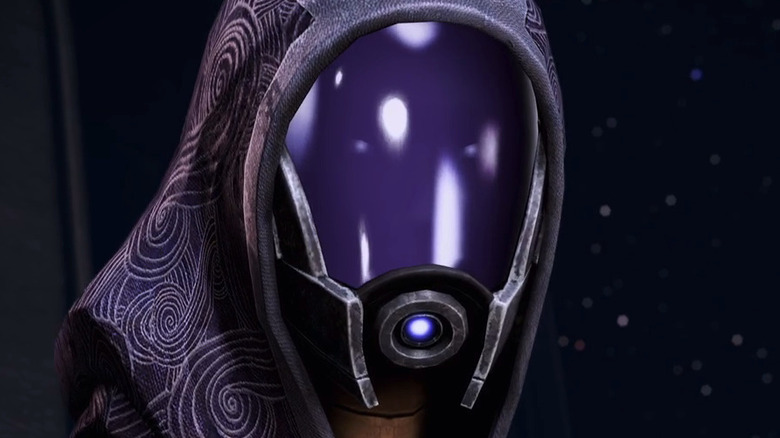 Electronic Arts
Bioware has long been known for developing RPGs with iconic stories and a cast of unique characters. From "Star Wars: Knights of the Old Republic" to "Mass Effect" to "Dragon Age," the developer has left its mark with memorable characters that are still discussed by players. In a long list of fan favorites, one that stands out is Tali from the "Mass Effect" series.
Advertisement
Tali made her first appearance in the original "Mass Effect" and was one of the few characters able to join Commander Shepherd's squad in every game she's featured. Tali's people had been driven from their home world and dreamed of finding a way to return one day. Conversations with Tali revealed her kind nature and filled in background info on the Quarian people and their conflict with the Geth. Meanwhile, in the field, her tech skills proved helpful in taking down enemies and interacting with the environment.
Despite being a fan favorite and even a possible romantic partner for players in "Mass Effect 2" and "Mass Effect 3," Tali's face remained hidden throughout the series (apart from that "Mass Effect" scene that wronged fans). Having been born and raised on sterile spaceships, Quarians had weakened immune systems and were forced to wear protective gear at all times. The obscuring of Tali's face was somewhat ironic, as the actress who voiced Tali, Ash Sroka, is quite beautiful. Further, she's a talented veteran of the video game industry.
Advertisement
Ash Sroka comes from an acting family
It's not surprising that Ash Sroka, who also goes by Liz and Elizabeth, became an actress considering her father, Jerry Sroka, is an actor too. The elder Sroka has made appearances in TV series like "Seinfeld," "Star Trek: Voyager," and "Shameless," with voice acting credits for "The Wild Thornberrys," "Family Guy," and the video game "Mafia 2" among others. In addition to her father, Sroka's stepmother and brother are also actors with a long list of credits between them.
Advertisement
Ash Sroka joined the family legacy in the '90s with minor roles, including an appearance in "Walker, Texas Ranger." Playing Tali in the "Mass Effect" trilogy was her first significant role and has since led to other notable performances. She got to return to the "Mass Effect" series in 2017 when she voiced a different character in "Mass Effect: Andromeda" and voiced the protagonist in 2020's "The Waylanders" — which she helped write. Most recently, she got to work with her father and stepmother when they all appeared together in the film "Our Almost Completely True Story."
Sroka hopes Tali's story helped people during the pandemic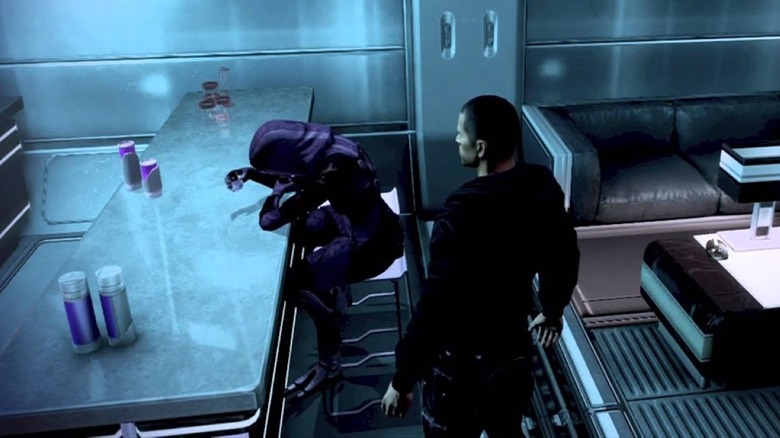 Electronic Arts
Tali's story, and the challenges of the Quarians, took on new meaning for some during the Covid-19 pandemic. The Quarians, having weakened immune systems, find themselves, as a species, trapped on their ships — requiring protective suits whenever traveling outside the fleet. During a "Mass Effect" cast reunion panel to celebrate the release of "Mass Effect Legendary Edition," Sroka was asked if she thinks Tali has more relevance in the wake of a pandemic with masking and social distancing used as mitigation strategies.
Advertisement
Sroka answered, saying, "I hope so. I would hope that anything that we're doing here is going to have a positive impact on a bigger level." She added that she'd like to think Tali's story serves as a lesson to people in difficult times and that her heroism and selflessness provide an example to others.
During this same panel, Sroka got to show off her acting skills, reprising her role and performing a fan-favorite scene from the "Citadel" DLC in "Mass Effect 3." If fans have ever wondered what Tali would be like after one too many drinks or if she has any tattoos, it's well worth watching the real-life encore.