The Diablo 4 Leak Gives Fans A First Look At The In-Game Cosmetics Shop
The Diablo 4 in-game shop offers only purely cosmetic items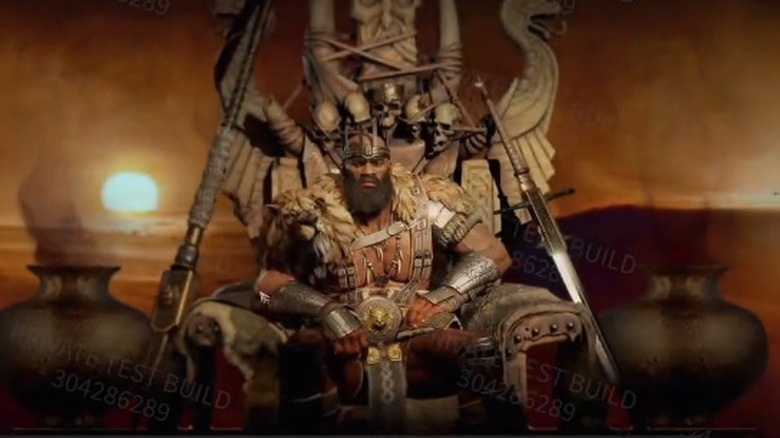 Blizzard
During the "Diablo 4" gameplay video leak, the mystery leaker accessed the Shop tab prominently featured in the menu between the Clan and Game options. Upon opening the menu, the player could select the Cosmetic or Palladium tab. Although the player didn't open the Palladium tab, many have already theorized that it is where players purchase premium currency.
After opening the Cosmetics tab, the player was greeted with a list of featured items. The items showcased included a Barbian bundle titled The Lion of Arreat, a Rogue bundle called Raised by Wolves, and two Druid bundles Sunken Treasures and Heir to the Sea. In addition, the shop also featured a horse cosmetic and a glowing headstone.
After perusing the shop, the player took a closer look at the Barbarian Lion of Arreat set bundle. After selecting the bundle, the menu expanded, and users could view each piece in the set. The bundle was composed of a chest piece, gauntlets, pants, a helmet, and two weapons. It seems that players can also preview the items in real-time on their character. The price of the set was also listed, with it going for 2500 of "Diablo 4" premium currency. However, the conversion to real-life currency is unknown at this time.
Still, according to the leaked footage, Blizzard has kept its promise to sell only cosmetic items in the in-game shop.