Is Slime Rancher 2 Coming To PS5 And PS4?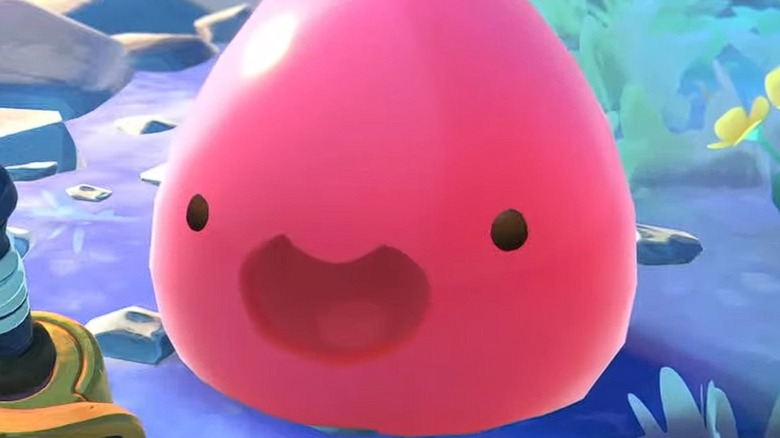 Monomi Park
"Slime Rancher" is arguably one of the most beloved games on the internet. According to the game's website, it surpassed 15 million sales since its release in 2017, and the game has a rating of 10/10 on Steam and some pretty sweet reviews on Metacritic. Many people don't realize how dark some of the game details are between the bright, bubbly world and cheap jokes throughout the game.
Advertisement
The first "Slime Rancher" focused on the story of Beatrix LeBeau, a rancher who decides to cross planets in order to make a living on her own slime ranch. Between being able to grow crops, wrangle slimes, and explore the vivid world around Beatrix, the game had a lot of things for players to do and aim for. According to the game's site, "Slime Rancher 2" follows Beatrix's story while she travels to a new island with new slimes and stories to uncover.
With "Slime Rancher 2" out for Early Access on Xbox X|S and PC on Sept. 22, 2022, many fans are wondering if the PlayStation 4 or the PlayStation 5 will ever see the game.
Unfortunately, PlayStation can't get Slime Rancher 2 yet
Monomi Park
There's no official word on if "Slime Rancher 2" will make its way to the PS4 or PS5, but it definitely won't be happening anytime near the Early Access release date in September 2022 for one major reason – PlayStation doesn't really offer an Early Access program. While there are open betas for games like "Call of Duty: Modern Warfare 2," there's nothing for the majority of games in Early Access, including "Slime Rancher 2."
Advertisement
However, "Slime Rancher" ended up on PlayStation, so it's likely that "Slime Rancher 2" eventually will as well. This means that some PlayStation fans can keep holding their breath, but not all of them. The Early Access version of "Slime Rancher 2" is for Xbox X|S and PC, not Xbox One. This means that PS4 players may never get access to the game. There's no word on an official release date either, so it could be quite a while before the space-ranching game hits the Sony console.