How To Watch CouRage's $100K Fall Guys Event
Robert Reiners/Getty Images
Gaming YouTuber and co-owner of 100 Thieves Gaming Jack "CouRage" Dunlop recently checked out the new season of "Fall Guys" for the first time and had a blast with the experience. This seemed to have marked the beginning of CouRage streaming more "Fall Guys" content and, less than a week later, he followed this up with a tournament featuring some of the best "Fall Guys" players from around the world competing for a share of $20,000. Now, CouRage is looking to outdo himself with another tournament featuring some of the biggest names in streaming. 
On Sept. 26, after teasing it in his recent streams, CouRage announced on Twitter that he would be holding "the Ultimate 'Fall Guys' Tournament (the biggest... EVER)" on Friday, Sept. 30. The tournament will feature popular streamers — including Valkyrae, Cizzorz, Fuslie, BrookeAB, and LoserFruit — and has $100,000 up for grabs.
While CouRage hasn't offered any details yet about exactly how the tournament will work or who else will be competing, it is clear how fans will be able to catch the event live if they're interested.
Fall Guys tournament taking place Friday on YouTube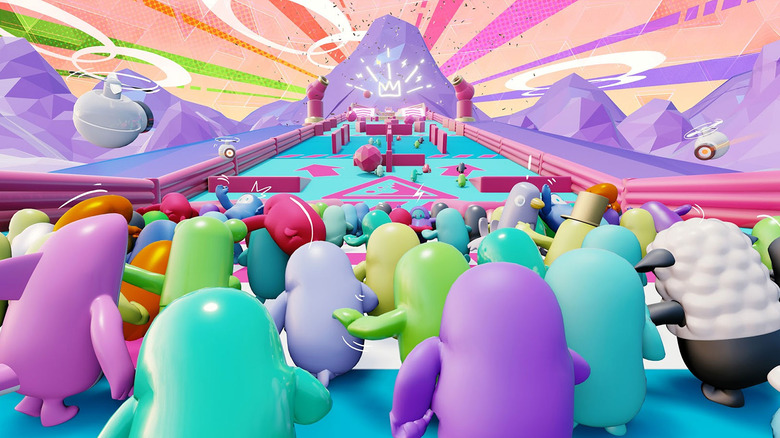 Epic Games
The tournament is set to take place at 3 PM EST (Noon PT) and will be streamed live on CouRage's YouTube channel. Fans need only head over to his channel at that time to check out and comment on the action. Fans of any particular streamers participating in the event will also want to follow them for news and updates about the event as well, and to find out if they'll be streaming the event from their own channels. 
CouRage hasn't revealed the format of the tournament yet but, if it's like the recent tournament he hosted, it will involve multiple matches with the prize money being divided up based on how many wins individuals can rack up throughout. If that's the case, there won't be a single ultimate winner, but several winners over the course of several matches sharing the prize. Of course, some particularly lucky or skilled player could sweep the tournament and take home the gold in every match. 
With so many popular streamers playing together and showcasing the new rounds and other content from the latest season of "Fall Guys," this should be a major event. CouRage is certainly looking forward to it and at least one participant is also excited to get started.