FIFA 23 Reviews React To The End Of EA's FIFA Series
Electronic Arts
"FIFA 23" is almost here, which means critics have begun to give their thoughts on the final entry in the storied franchise. While EA and FIFA have agreed to part ways, it doesn't mean soccer fans won't have an alternative next year. Instead of "FIFA," EA's next soccer franchise will be known as "EA Sports FC." Though there isn't too much expected to change about the game outside of name, "FIFA 23" still marks the end of a historic run of video games. As such, many reviewers are treating their "FIFA 23" coverage as the final "FIFA" game to release, reflecting on the franchise as a whole and contemplating what kind of a legacy will be left behind.
While the EA and FIFA split had some serious consequences, it appears as though "FIFA 23" was still able to put its best foot forward following decision. Here's how critics feel about the final "FIFA" game.
Most critics think FIFA 23 went out on top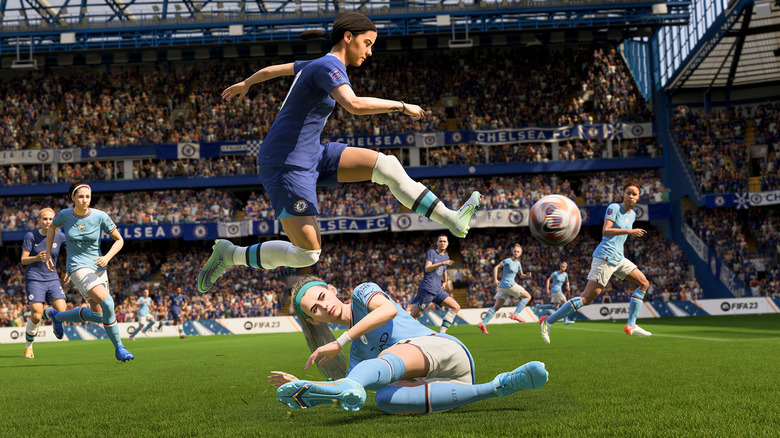 Electronic Arts
"FIFA 23" has relatively positive scores, currently at 80 on Metacritic. VGC gave "FIFA 23" a four out of five, with Chris Scullion praising new gameplay additions like the power shot technique. Scullion also celebrated "FIFA 23" for including additional women's teams and hoping for more in the future. While Scullion had plenty of great callouts for the game, he ended the review saying, "But we still can't shake that nagging feeling that next year's game – the first edition of EA Sports FC – may be the one EA is saving its big guns for."
The Guardian scored "FIFA 23" four out of five. Critic Keith Stuart praised the game for having a much more fluid and fast-paced feel than "FIFA 22." Stuart wrote, "Now it feels like the physics, AI and animation have come together in a way that makes even these ridiculous moments feel naturalistic and pleasurable." However, Stuart ultimately concluded that "FIFA 23" is the series at its peak.
Dexerto ranked "FIFA 23" at eight out of ten, with critic David Purcell saying, "The last 'FIFA' game is the most realistic ever." Purcell praised the realism in "FIFA 23," citing players having unique running and movement animations based on their play. Purcell's main knock against the game is the monetization of Ultimate Team, which has increased since the previous entry.
"FIFA 23" may be the final entry, but it's a solid entry to end on.