Disney Dreamlight Valley: How To Unlock Ursula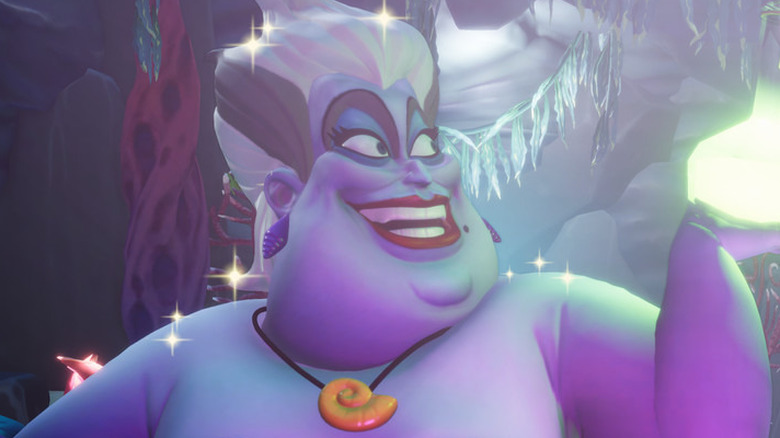 Gameloft
One of the best things about "Disney Dreamlight Valley" is being able to hang out with old friends from your childhood (or new friends from your adulthood, we don't judge here). Gameloft doesn't limit this to Disney heroes either — you can choose to unlock heroes such as Remy from "Ratatouille," Anna and Elsa from "Frozen," or — as we'll show you how to do here — villains like Ursula from "The Little Mermaid."
Adding Ursula to your roster is not as simple as visiting a new realm or unlocking an area, however. She's been trapped in a cave by sorcery that only you can break, so you'll have to complete a few quests, spend a good chunk of "Dreamlight," and unravel a set of riddles.
There are a few prerequisites to locating the cave where Ursula is trapped. First, you'll have to complete the "Friendship is Everything" quest for Merlin in order to unlock other areas of the valley, known as biomes, for "Dreamlight." After you've finished this quest, unlock "Dazzle Beach" for 5,000 "Dreamlight." This will initiate a cutscene that shows a cave blocked by swirls of dark magic, and allow you to start the "With Great Power" quest with Merlin.
Finding Ursula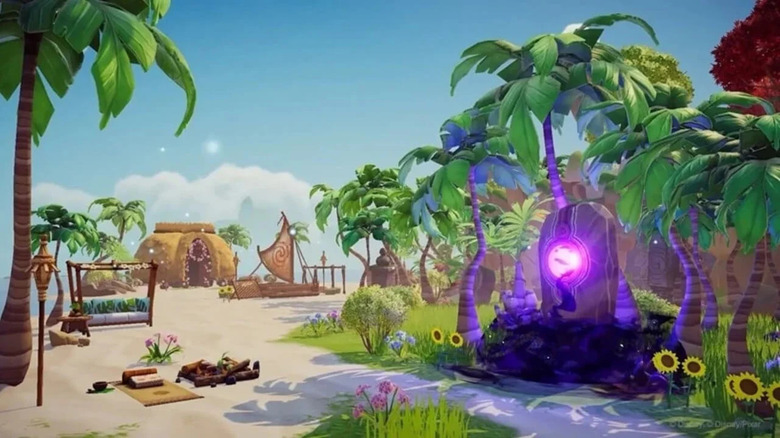 Gameloft
Initially, the beach will be separated into two sections by some sea debris (don't worry, you'll be able to get rid of this once you've completed the "A Tale of Stone and Fire" quest for Maui). Head to the left section of the beach and follow the cliff face along until you find a small sandy path at the water's edge. Follow it until you come to a cave with a yellow lantern outside — this is where you'll find Ursula. She will ask for your help with setting her free, and will provide you with a "Crystal Key."
In order to disperse the magic blocking the entrance to Ursula's cave, you'll need to restore the "Orb of Power" to its rightful place. This orb is in a second cave, which can be found back on the main beach, jutting out of the cliffs of the grassy area in the corner. Insert the "Crystal Key" Ursula gave to you into the key stand by the rocks to open up the entrance and head in.
Solving the Mystic Cave's riddles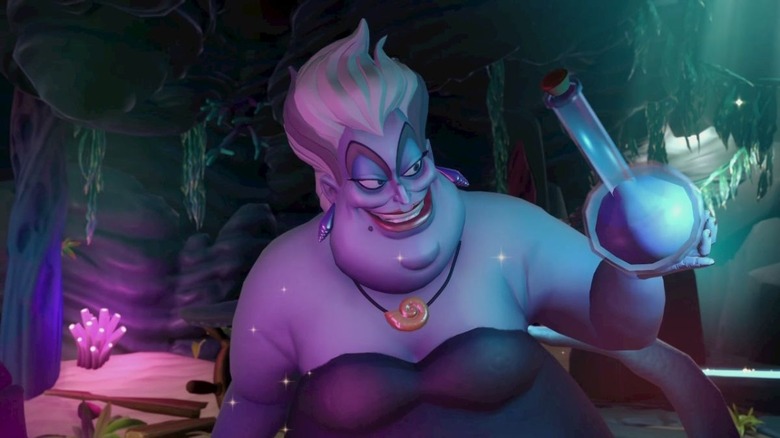 Gameloft
The "Mystical Cave" has three stages, each containing a riddle. The first section is a mining task, where you'll need to mount gems of the corresponding color on each statue. You'll need an aquamarine, a garnet, and a peridot (note that shiny variants of these gems won't work, but can be sold for a quick profit).
Next is a farming riddle, where you need to plant and harvest the correct seeds in order to progress. The riddle asks for vegetables that "grow in the ground" (a carrot), "are gold and brown" (wheat), and are "red and round" (a tomato). Each of these seeds can be purchased from one of Goofy's stalls. This stage requires a bit of waiting, as you'll need to wait for each seed to germinate and grow into a crop before you can progress.
The third and final stage is the easiest. All you need to do here is harvest the vegetables you grew, cook a meal with them using the stove provided in the cave, and eat it. After this, you'll reach a small pool at the end of the cave, with a fishing spot. Cast your line, and you'll pull up the "Orb of Power". Head back to the entrance and interact with the pillar to transfer the Orb, then speak to Merlin and Ursula one last time to complete the quest and free the sea witch – for better or for worse.