Nintendo Warns VTubers Over NSFW Splatoon Streams
It's been over a month since Nintendo's 5v5 competitive shooter "Splatoon 3" hit shelves, and gamers and critics are loving it. And according to Japan sales data, courtesy of gamesindustry.biz, "Splatoon 3" sold 2.7 million boxed copies alone in only three weeks. So, it's safe to say the game is popular, at least in Japan. But not everyone is playing the game how it was intended.
Advertisement
For example, cheaters have infiltrated the game in droves, forcing Nintendo to seriously crack down on banning users, but that's not all. According to reports, a new trend recently emerged among Japanese Vtubers that puts NSFW content front and center. This trend had some Japanese VTubers using chroma keys to turn the enemies' paint into a green screen, then superimpose Japanese adult video content on top of it. For the curious, here's an SFW pixelated example of what it looked like.
But adult content isn't allowed on streaming platforms like YouTube, so the goal was to cover up the enemy's NSFW paint before it revealed too much, resulting in the streamer getting banned. However, as it turns out, Nintendo was not keen on having its kid-friendly E+ shooter become host to NSFW content and may have already personally taken action against those that participated.
Advertisement
Nintendo was not happy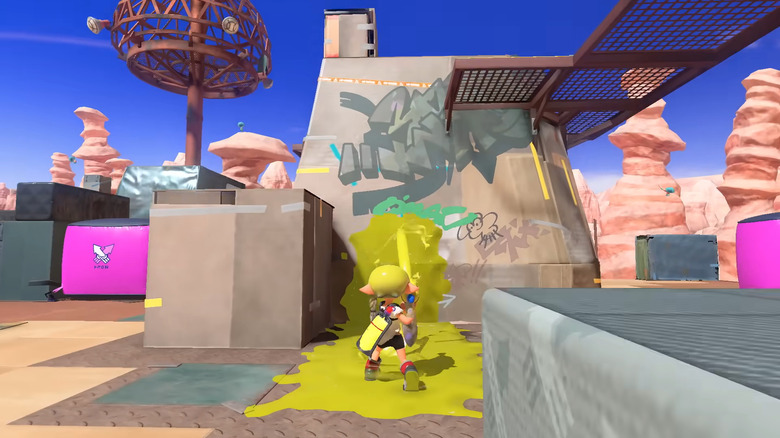 Nintendo
In response to the new NSFW Vtuber trend, Nintendo Japan took to Twitter to remind players of the rules for Nintendo Online Video & Image Sharing Platforms by providing a link to the official rule page. In a follow-up Tweet, Nintendo quoted a specific rule that directly addresses the trend. Although the rule page linked is in Japanese, the English translation is: " We [Nintendo] reserve the right to remove any content that we believe is unlawful, infringing, inappropriate, or not in line with these Guidelines."
Advertisement
It's pretty apparent how the NSFW trend could be deemed inappropriate by Nintendo, thus warranting a takedown. However, the Japanese Twitter translation of the rule seems to be more serious, mentioning Nintendo taking legal action — but that could be due to inaccurate translation.
Soon after Nintendo fired out its warning Tweet, it seems the company took action against a few channels that participated in the challenge. According to Kotaku, some channels that participated in the trend had their entire YouTube account banned, despite offering an apology. Based on Nintendo's guidelines, the company is well within its rights to take action, writing that "In some cases, Nintendo may take down videos on behalf of our third-party partners." Although it's unclear if Nintendo contacted YouTube requesting the channels be banned or if YouTube banned the users on its own.
Advertisement