Annapurna And Observation Devs Are Teaming Up For New Silent Hill Game
Konami might have spoiled its own "Silent Hill" showcase by revealing the names of upcoming "Silent Hill" projects, but the showcase itself offered more in-depth looks at all that is coming for the classic horror franchise. Not only was it officially confirmed that one of the new "Silent Hill" games is a remake of "Silent Hill 2," being helmed by Bloober Team, but the developer No Code is working on an original title called "Silent Hill: Townfall."
Partnering with publisher Annapurna Interactive, No Code's take on the "Silent Hill" franchise is aiming to respect the source material while also introducing some new ideas. As creators of 2017's "Stories Untold" and, more notably, 2019'S BAFTA-winning "Observation," No Code has experience with creating games that focus on "deep psychological horror" similar to "Silent Hill" titles.
For now, we're not sure when "Silent Hill: Townfall" will arrive, or what platforms it will land on. However, the game's teaser trailer and brief look behind the scenes have given us a small understanding of the game's tone.
Deep psychological horror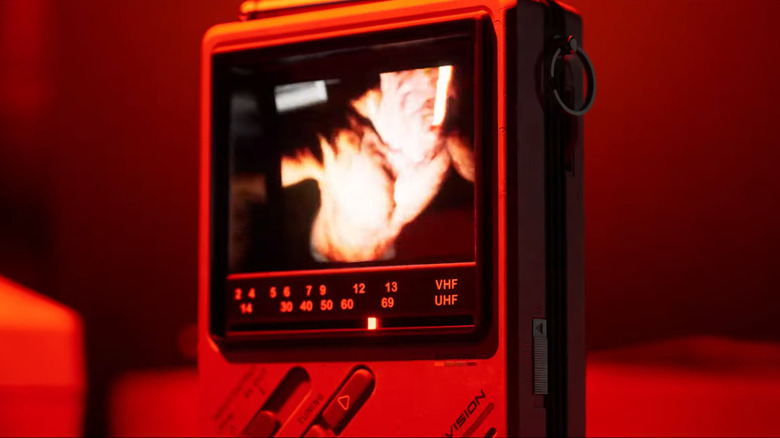 Annapurna Interactive
While it's barely more than a minute long, the "Silent Hill: Townfall" teaser trailer manages to create an eerie feeling. Jumping between shots of an aerial view of a dark, red coastline and a handheld radio, the trailer builds while an unknown and slightly gargled voice comes through the radio. "Why are you here? In this place, why are you here?" the voice asks. "You're here to be punished." As the voice continues, a small screen on the radio flickers between several out-of-focus shots. Some show grotesque flashes of inhuman looking figures. As the voice and flashing images conclude, a single, larger image of someone's face appears before the trailer cuts to its ending shot and title card.
Of course, the identity of the person speaking, the person seen at the end of the trailer, and just what all of those brief, horrific glimpses were is a mystery. Unfortunately, Jon McKellan, the creative director of No Code, said fans shouldn't expect answers soon. "So obviously the teaser trailer is just the beginning and we can't show you any more just yet. We're going to be hard at work for a while, but we can't wait to come back in the new year and show you more," he explained. Rather cryptically, however, McKellan added, "Until then, it might be worth watching that trailer again." Perhaps, in between all of the rapid flashes on the trailer's radio, there are hints to be found for "Silent Hill" fans. 
As a "Silent Hill" fans himself, McKellan emphasized that, "For us to work on this game with our friends at Annapurna feels like an actual dream come true." Hopefully, fans won't have to wait too long to learn more.