Former Blizzard Designer Reveals Tremendous 'Pressure' From Activision Merger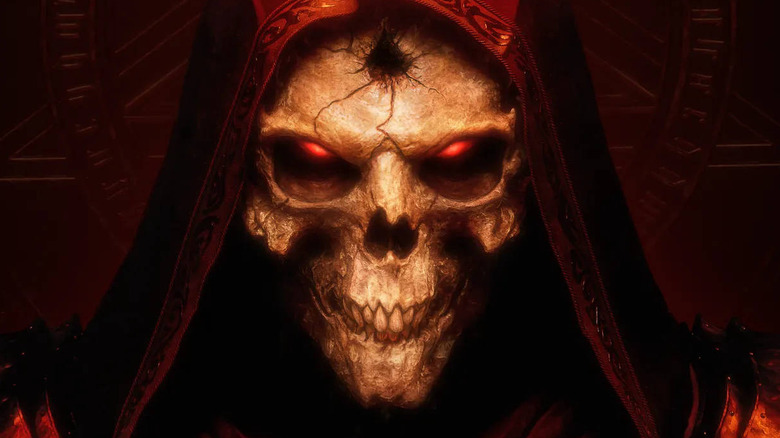 Activision Blizzard
About a decade and a half ago, Activision and Blizzard Entertainment were two separate companies. Activision created a slew of well-known games including "Tony Hawk's Pro Skater" and "Call of Duty," while Blizzard had the "Starcraft," "Diablo," and "Warcraft" series. In July 2008, Blizzard parent company Vivendi Games merged with Activision and became the Activision Blizzard we know today. Though the move was highly publicized, and Activision Blizzard's shady side has had a fair share of publicity since then, nobody really knew how the merger affected the people behind the scenes at both companies until now.
At the Portland Retro Gaming Expo on October 15, 2022, three lead developers from the "Diablo" series led a Diablo Retrospect panel. "Diablo 3" director Jay Wilson, series composer Matt Uelmen, and "Diablo 2" producer Matt Householder answered fan questions and described some behind the scenes details of working on "Diablo" and being at Blizzard. Towards the end of the panel, Wilson revealed the reality of the "enormous amount of pressure" put on staff during one of the biggest mergers of all time, going as far as to describe Activision's effect on Blizzard Entertainment as "a frog in a boiling pot of water."
Activision had a massive effect on how Blizzard approached its games
As the last question in the Diablo Retrospective panel, Wilson, Uelmen, and Householder were asked about how much impact Activision had on Blizzard in light of Microsoft's purchase that had the internet going wild. Having been the lead designer of "Diablo 3," Jay Wilson primarily gave his perspective. "Early on, it felt like nothing," Wilson said. However, as time passed, Activision's effect became more noticeable. "The products that were newer ... had enormous amount of pressure on them to produce." Wilson referenced the now practically dead MOBA "Heroes of the Storm" as an example. 
Wilson said Activision was planning to make the controversial but successful "Diablo Immortal" before he left, continuing that the newly merged company badly wanted a free-to-play "Diablo" game. "They had a big effect on all those business models," Wilson continued. "In my opinion, a lot of the higher-up people who have left, did because they just got frustrated with all of that." 
Wilson finished his response by saying that while he understands that Activision Blizzard is a business that needs players to pay for products to continue making those products, the focus has shifted from decisions that make sense for players to profits and the bottom line. "We always wanted to charge them what we thought was reasonable," Wilson said. "That came in direct conflict."