Can You Play World Of Warcraft On Steam Deck?
Activision Blizzard
The Steam Deck modding community continues to prove just how far the capabilities of Valve's handheld PC gaming device can go. Typically, the Steam Deck can only play games available on Steam, Valve's PC storefront. However, since the console was first released in early 2022, users have figured out how to get past normal restrictions to run software not normally intended for the Steam Deck. After the community figured out how to bypass the Easy Anti Cheat requirement and play "Fortnite" on the Steam Deck, it seemed anything was possible — but what about MMOs on the Steam Deck?
"World of Warcraft" is still one of the world's most popular MMOs, despite what critics said about the "Shadowlands" expansion, with both Classic and retail versions of the game still thriving. There are already mods for "World of Warcraft" that enable controller support without demanding too much from the player, but porting the MMO and these add-ons to the Steam Deck is a different story. When it comes to whether "World of Warcraft" can run on the Steam Deck, the answer is yes — with the caveat that it takes quite a lot of setup to get the title functioning correctly. The upcoming ninth expansion, "World of Warcraft: Dragonflight," might make the process a little bit easier with its innate gamepad support and new UI features, but for now, players will have a bit of a project before them.
How to play World of Warcraft on the Steam Deck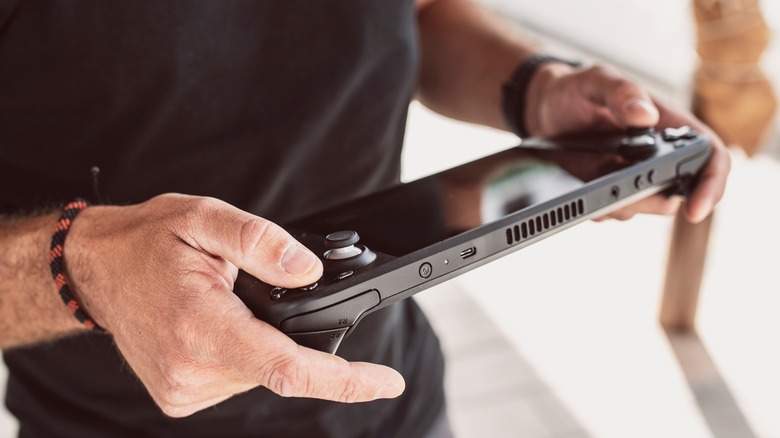 FotoAndalucia/Shutterstock
Steam Deck HQ, a site dedicated to modifying and fine-tuning Valve's handheld console, published a guide on getting "World of Warcraft" to work earlier this year — while it's quite a long process, it's not an impossible one. In the guide, writer Bitterjay goes into detail over four major steps: how to install the modified Proton GE operating system, how to get the Battle.net app going, how to run "World of Warcraft" once installed, and how to get other WoW addons required for proper gamepad support and UI optimization on the Steam Deck.
The Proton GE operating system is a modified version of the console's standard OS that includes all official updates and fixes for the Steam Deck OS that haven't officially been addressed. It's updated regularly by Steam Deck modder GloriousEggroll, so gamers should ensure they have the latest version before getting started. After getting the Battle.net app and "World of Warcraft" installed, open the game with a controller plugged in and change the keybindings, as the game natively supports gamepad inputs.
Bitterjay recommends using Curseforge to download three specific addons: Consoleport, Immersion, and DynamicCam. ConsolePort makes the UI much more functional for controller players, Immersion replaces quest, talking head, and other frames with customizable ones, and DynamicCam modifies how the camera moves in some situations.