Fall Guys: How To Unlock The Doctor Who Skins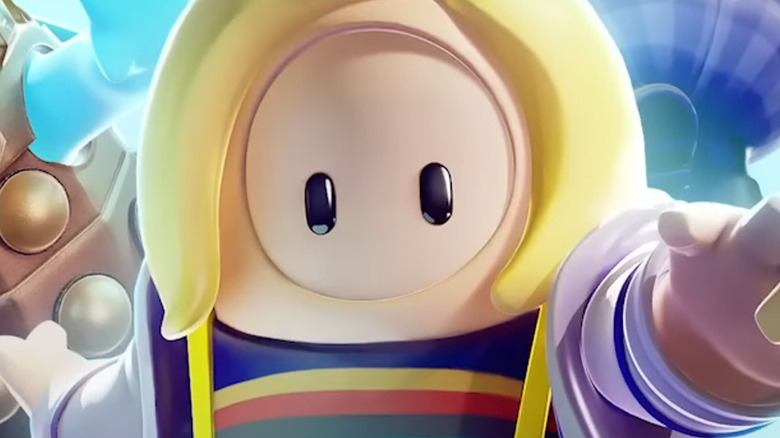 Epic Games
"Fall Guys" is continuing its mission to get a crossover with every pop culture franchise under the sun, and this time, it's none other than "Doctor Who" in the esteemed guest spot. In keeping with the battle royale's sci-fi-centric "Satellite Scramble" season, which features "Star Trek" and "Alien" costumes, the long-running British series about a time-traveling alien has gotten its own in-game promotional event for the first five days of November 2022. During this initial run, players can obtain unique cosmetics based on different eras of the over-half-a-century-old franchise.
The promotion introduces more than just a few "Doctor Who" goodies to the game, including everything from character costumes based on several incarnations of the Doctor, to a specialized emote to new nameplate designs and even more. Whether players want every "Doctor Who" skin or are just looking for one or two things in particular, here's how to obtain the cosmetics from the exciting "Fall Guys" crossover.
Players need lots of Show-Bucks
Those looking to give their "Fall Guys" experience a "Doctor Who" makeover better have plenty of Show-Bucks lying around, as spending the premium currency is the only way to unlock the timey-wimey cosmetics.
Outfits based on the Fourteenth Doctor, Fourth Doctor, and the villainous Daleks are all available for individual purchase via the in-game item shop for 800 Show-Bucks each, alongside a Sonic Screwdriver emote for 400 Show-Bucks. Two bundles are also available: the Regeneration Bundle, which packages together Fourteen and Four's costumes, the aforementioned emote, and a couple of nametag cosmetics, and the Doctor Dalek bundle, which includes the Dalek costume, a Twelfth Doctor outfit, and a few nametag cosmetics. Each package costs 1200 Show-Bucks. 
Seeing as the two bundles comprise the game's "Doctor Who" items, the minimum amount players can expect to spend for everything is 2400 Show-Bucks. Of course, while small amounts of the currency can be obtained by leveling up in the game's free season pass and even more so with the pass' premium tier, those lacking enough funds must purchase additional Show-Bucks with real-world money. A package of 2800 Show-Bucks costs $19.99, for reference.
If players miss the "Doctor Who" cosmetics during the initial event, there's a possibility that they'll have another chance. Other "Fall Guys" crossovers like the "Sonic the Hedgehog" skins have returned to the shop after their first run, so fans may get another shot at snagging their favorite Doctor down the line.