Fall Guys: How To Unlock The Sonic The Hedgehog Skins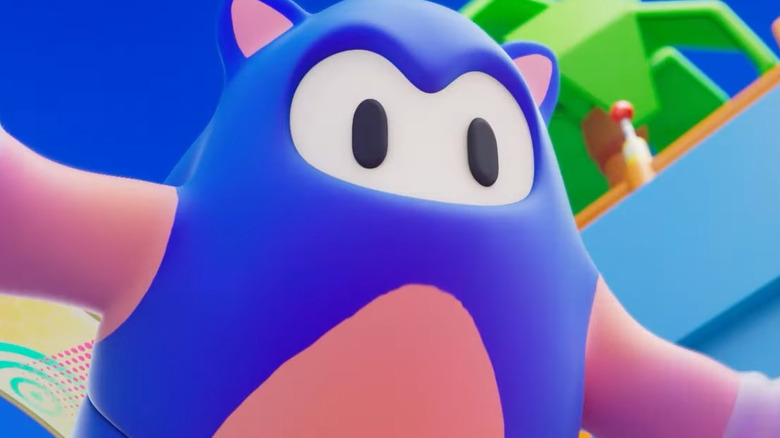 Epic Games
"Fall Guys" broke records upon its initial release for the PlayStation in 2020, and ever since it's become a free-to-play cross-platform title, its popularity only seems to grow. Because of this increasing popularity, a number of companies have put on limited-time themed events in tandem with the title. WWE fans could purchase SummerSlam-inspired skins and Godzilla-themed skins brought some monstrous flair earlier this summer. Now, "Fall Guys" is introducing another event based around one of the most legendary video game franchises in history: "Sonic the Hedgehog."
Announced on August 11, "Fall Guys" will be hosting a "Sonic"-themed event in which skins based on Sonic, Super Sonic, Knuckles, Tails, and Eggman will all be available. The event also introduces a new level to the game called Bean Hill Zone. This marks the second time "Fall Guys" and "Sonic the Hedgehog" have collaborated, with the first time being way back in 2020. However, this crossover is much bigger.
The Sonic skins can only be purchased with show bucks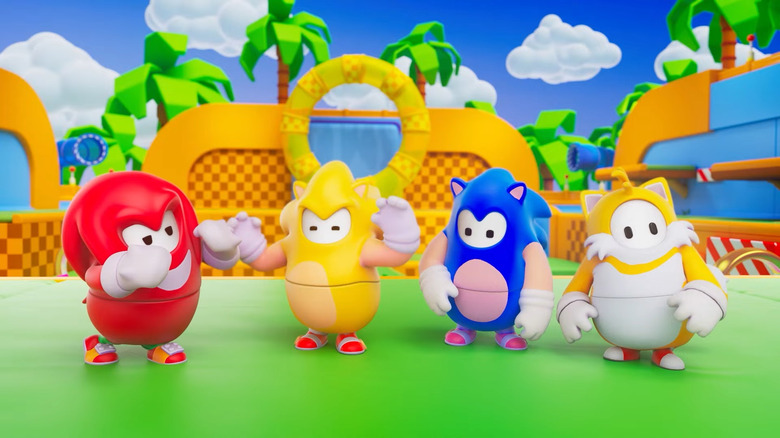 Epic Games
If you were hoping to have a chance to unlock the "Sonic" skins organically, you will unfortunately be out of luck. Similar to the previous WWE SummerSlam event, players will only be able to unlock the "Sonic" skins if they're willing to open their wallets and buy Show Bucks, a digital currency in "Fall Guys" only obtainable with real-life cash.
Currently, the different "Sonic" items are available both in bundles of two, as well as individually. For 1200 Show bucks, the duo of Sonic and Knuckles can be purchased. The duo of Tails and Dr. Eggman can also be purchased for this same price. Individually, these skins all cost 800 Show Bucks each, which makes buying the four of them at 2400 Show Bucks a better deal. The Super Sonic skin, however, isn't included in any of the bundles and can only be bought individually for 800 Show Bucks.
As it stands, players can purchase 2800 Show Bucks for $19.99 which is enough to get the Sonic/Knuckles and Tails/Eggman bundles. Should you want to grab Super Sonic too, it's gonna cost you even more. "Fall Guys" only provides four options when purchasing Show Bucks in-game: 1000 for $7.99, 2800 for $19.99, 5000 for $31.99, and 13,500 for $79.99. For the best possible value, you could spend the $19.99 on 2800 Show Bucks, and level up your Battle Pass to earn up to 1500 Show Bucks. Basically, if you gotta go fast in "Fall Guys," you have a few options for earning the Sonic skins.