Overwatch 2's Dr Disrespect Tweet Has Fans Begging For Skins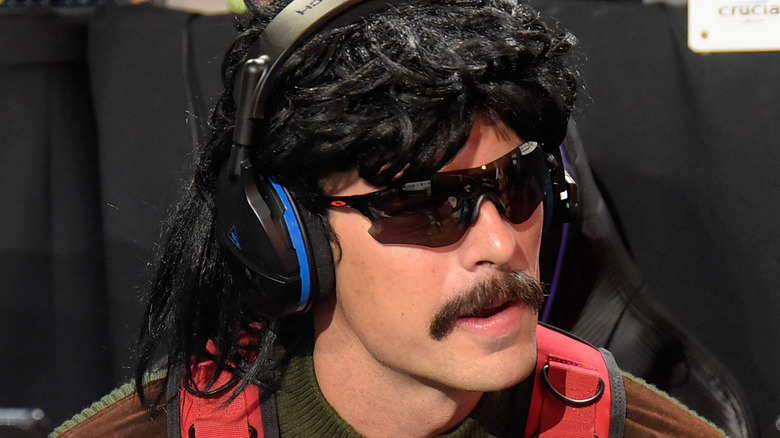 Michael Tullberg/Getty Images
Blizzard's "Overwatch 2" got off to a rocky start. Upon launch, gamers everywhere took to social media to complain about server issues, missing cosmetics, and the game's controversial way of unlocking new heroes. Still, its launch woes didn't stop millions of gamers from logging on and battling it out in the weeks following the "Overwatch 2" launch. One of these gamers who hopped onto the "Overwatch 2" bandwagon was the self-touted two-time world champion Dr Disrespect.
However, long-time fans of the Twitch streamer will know that this isn't the first time Dr Disrespect has dabbled in "Overwatch." During the height of the "Overwatch" hype, the Doc would occasionally boot up the game to collab with his buddy and big-time "Overwatch" fan, Timthetatman. But the Doc eventually put the game down in favor of other titles such as "Escape from Tarkov" and even "Elden Ring."
However, once "Overwatch 2" launched, Dr Disrespect gave the series another go, mainly as a DPS playing the new Sojourn hero. And it seems the "Overwatch" team over at Blizzard has taken notice of Doc's return to "Overwatch" as the "Overwatch" Twitter account recently sent out a hilarious Tweet that had fans clamoring for a Dr Disrespect "Overwatch 2" skin.
Fans want a Dr Disrespect Overwatch 2 skin
On November 2, the "Overwatch" Twitter account Tweeted, "@DrDisrespect Glad you're having fun with #Overwatch2." Accompanying the Tweet was a hilarious mockup of a Dr Disrespect "Overwatch" hero with four abilities. One of his abilities utilizes his signature "Prototype Scopes," Which "shoot devastating energy beams directly into the souls of his enemies." In addition, the mockup Doc hero has the power of his real-life counterpart's "Vertical Leap." Finally, this most overpowered ability is his "The Two-Time" ability that "immediately wipes the enemy team and wins the match. Twice." But scrolling through the Twitter replies, it has become evident that fans aren't satisfied with just a mockup — they want the real thing.
Fans quickly expressed that they wanted an actual Dr Disrespect skin in the game –with some even speculating that the tweet offered a teaser for an upcoming Dr Disrespect skin in "Overwatch 2," but nothing has been confirmed. However, Dr Disrepect has gotten his very own skin in games like "Rogue Company" and "NBA 2k23," so there's always a chance that the Doc himself may be playable in "Overwatch 2" in the future. It seems only fitting considering how addicted the two-time is to "Overwatch 2" at the moment.