Sonic Frontiers Is Quickly Getting Spoiled For Everyone
SEGA
Leaks for highly anticipated games are far from rare in the gaming industry, and it's becoming much more common as time goes on. In just the last three years, almost all of "The Last Of Us Part 2" famously leaked months ahead of its launch in 2020, CD Projekt Red was hacked and ransomed in 2021, and only a month ago "Grand Theft Auto 6" development footage made its way onto the internet — and that's only some of the biggest gaming leaks in the last few years. It's starting to feel like no game is safe from being spoiled, and on November 2, 2022, "Sonic Frontiers" became the latest victim of major leaks coming out just days before release.
"Sonic Frontiers" is the next mainline entry in the "Sonic" series, and its open-world spin on the classic formula has drawn interest from "Sonic" fans and critics alike — some have even compared it to "The Legend of Zelda: Breath of the Wild." Fans won't have to wait for long to play this latest entry, but some just couldn't wait — now, almost everything about the game has been leaked and is actively being spoiled on social media as SEGA tries to shut it down. As one fan put it, "the dam has completely burst with 'Sonic Frontiers' leaks."
Sonic Frontiers leaks are everywhere and reveal nearly everything – watch out!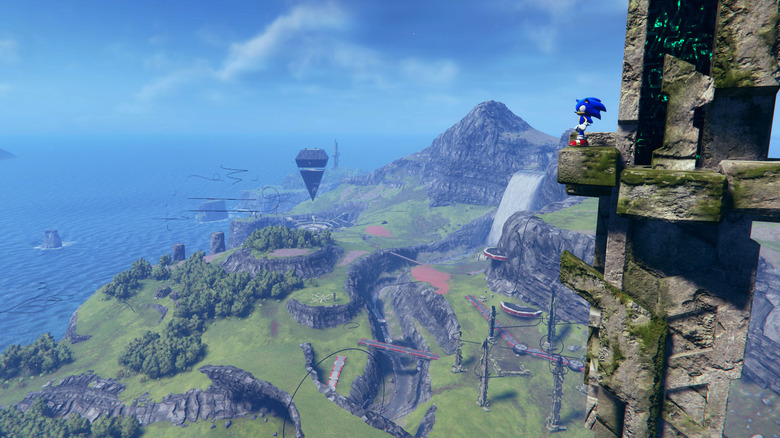 SEGA
The "Sonic Frontiers" leaks reportedly comprise just about everything in the game, in part because the "Sonic Frontiers" ROM itself was leaked. A ROM file, in extremely loose terms, contains all of the information needed for a computer to turn data and assets into a video game — it's normally the only thing a player needs to download to emulate a game, and it's enough to make "Sonic Frontiers" run on PC, giving players an unprecedented full look at the game in its entirety.
Leaks and spoilers are absolutely everywhere, especially in "Sonic" fan forums and Twitter threads, and several members of the community and Sonic Team have come out to ask fans not to spoil "Sonic Frontiers" for others. Tomoya Ohtani, who composed the "Sonic Frontiers" soundtrack, asked fans not to leak the game's music, and many have said will take a break from Twitter to avoid leaks.
Without going into specifics, the fan reception to what has been leaked seems overwhelmingly positive. One user, who disparaged the game's original appearance, said "Sonic is back" after seeing the spoilers for themselves, while longtime fans were just happy that the game was as good as they hoped it would be. By all appearances, "Sonic Frontiers" is a renewal for the franchise, but fans who care about going in blind will have to wait until November 8, 2022.