Bella Poarch Fans Shocked By Divorce Reports
Albert L. Ortega/Getty Images
Viewers often feel a personal connection to streamers and other internet celebrities, just as they might with comedians or Hollywood stars, but that doesn't mean that they know everything about these entertainers' personal lives. In fact, many fans are finding out that some of their favorite streamers have been married for years. That's the case with Bella Poarch, the pop star gamer who just filed for divorce from a husband that many fans didn't even know she had. Now, the internet is grappling with a so-called "secret husband" scenario for the second time in recent memory.
Bella Poarch built her brand on TikTok, but fans quickly found out that she was also a musician. Fans fell in love with Poarch after seeing her quirky lip-syncs on TikTok and her streams of games like "Among Us," but soon they appreciated her for entirely new reasons, digging into her history for clues about her life. Fans discovered that she had a rough childhood and turned to the Navy to pull herself out of a bad situation. Eventually, she found a new life through her TikTok fans, as her monetization on the platform helped her become financially stable.
Poarch's fans appreciate her talent, sure, but part of her appeal is definitely her beauty. She's enmeshed with streamer culture, and has an impressive pool of gaming friends, several of which appeared in her music video for "Inferno." However, now Poarch is in the news for an entirely different reason: her divorce.
Poarch filed for divorce in Los Angeles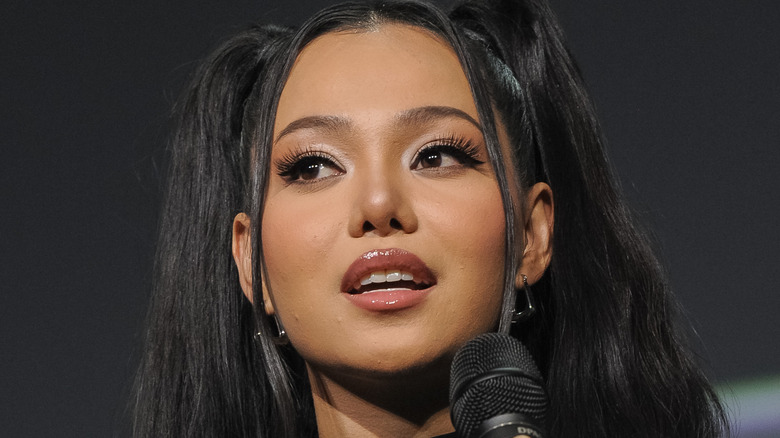 Albert L. Ortega/Getty Images
No one seemed to know Poarch was married, except maybe her closest friends, who never breathed a word of her union to the press. However, TMZ announced on Nov. 7 that Poarch had filed for divorce in Los Angeles county. According to public legal documents, she had been married to a man named Tyler Poarch for 4 years, though there seems to be no trace of him on Poarch's social media.
TMZ claimed that neither Poarch is seeking any kind of support from the other, and that since the couple have no children, the divorce should be a relatively straightforward process. Poarch cited "irreconcilable differences" in her paperwork, though TMZ did not know what those differences were. While the reasons for Poarch's divorce are her business, fans were shocked by the story because the TikTok star seemed single for most of her career. She not only refrained from showing her husband on social media, she never mentioned him at all, and actively made comments suggesting she was single.
For example, when appearing on an episode of Flighthouse's "Who's Bio is It Anyway?" in 2021, Poarch seemingly confirmed she was single, saying she could hunt for a date on Tinder to go out on a triple date with her two cohosts. In part, the comment was likely part of a sponsorship from Tinder itself, the comment stuck out to fans who are now on the hunt for more information about Poarch's divorce. Similarly, Poarch made a TikTok suggesting she was looking for her soulmate at a grocery store. While playful, fans are curious what was going on in Poarch's private life.
Bella's fans are shocked at the news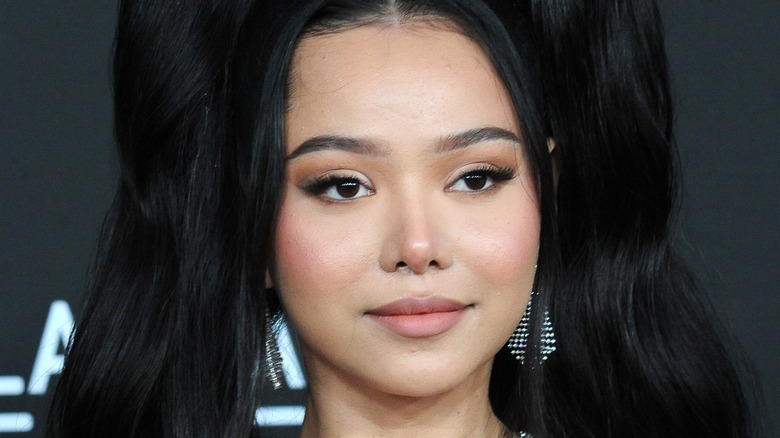 Tinseltown/Shutterstock
Together, Bella Poarch's fans are attempting to play detective, piecing together the timeline of her marriage, but mostly they're just in shock, voicing their feelings on social media.
Most fans were simply impressed that Poarch had kept her marriage for four years, especially after living such an eventful life already. One commenter tweeted, "bella poarch is so smart & doesn't get enough credit for it" before proceeding to list off all the challenges the singer has faced. Others were shocked that Poarch is actually her husband's name, which Poarch adopted after getting married and proceeded to use as her stage name.
One Twitter user said that regardless of whatever Poarch is going through, it's none of her fans' business. They tweeted, "the whole thing with bella poarch is just another example of people feeling like they have a right to know everything about others lives."
Many fans just didn't care at all, content knowing that they can still enjoy Poarch's music and TikTok content whether she's married or not. Bella Poarch is just living her private life, though it has been an extremely eventful private life, all things considered. To put it in gamer terms, as one Twitter user said, "Girl has finished [sic] the main quest she just doing all the side quests now." It's unclear what will happen next for Poarch, but fans can hope that it won't be as surprising as her marriage.