How Diablo 4's Legendary Items Differ From Diablo 3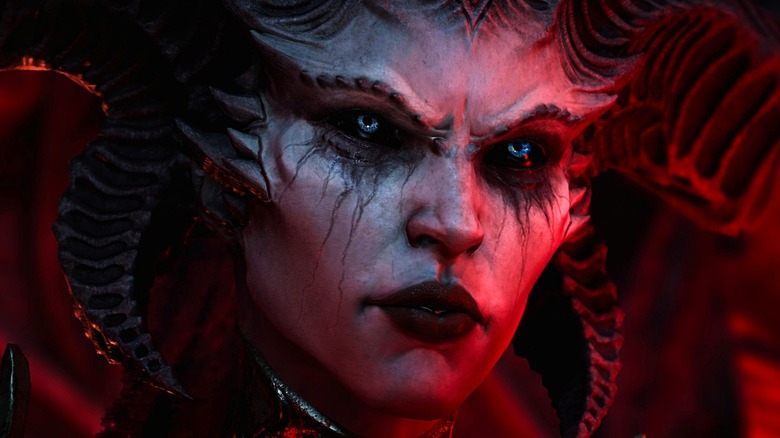 Blizzard Entertainment
It's no surprise that "Diablo 4" is already distancing itself from the mess that "Diablo Immortal" ended up being, and the pay-to-win mobile game isn't the only franchise embarrassment it's trying to escape. From the looks of all the massive changes announced so far — some revealed through the unfortunately huge leak — it sounds like the upcoming title is working hard to avoid the pitfalls of its unpopular predecessor, "Diablo 3."
Advertisement
Despite being critically well-received, "Diablo 3" was massively unpopular among the fanbase for its departure from the "Diablo 2" experience, lacking the hardcore grind as well as any meaningful player autonomy with regard to builds and character customization. Fans have called it "arcade-y," saying that it offered a faster and more instantly gratifying experience that, while not objectively inferior to "Diablo 2"'s gameplay, definitely contributed to its unpopularity with the existing fanbase.
It looks like "Diablo 4" is stepping away from the "Diablo 3" approach and gunning to recapture that "Diablo 2" magic with a huge emphasis on player freedom and meaningful progression. The game will be sporting extensive mechanic changes like the Paragon Board (via Gamespot), the World Tier system, and — perhaps most importantly — a whole new system for managing the randomized stats on loot drops. Fans can forget everything they know about Legendary items and effects from "Diablo 3" — "Diablo 4" is going to redefine how players approach Legendary item drops and gearing options altogether.
Advertisement
The new system is a huge step-up in customization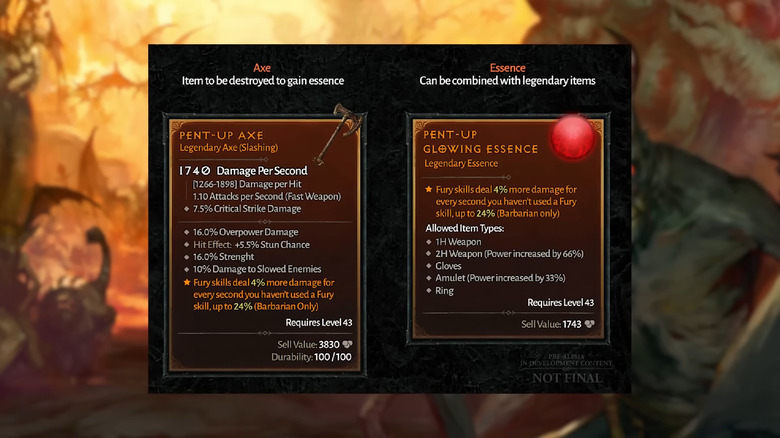 Blizzard Entertainment
In the December 2020 Quarterly Update, the "Diablo 4" developers announced that Legendary items and affixes would be getting a major update in that they would no longer be restricted to gear slots or items. Legendary items can be considered "Rare items with [the fifth] affix replaced with a legendary effect," with said effects rolling randomly on any loot drop the same way regular effects do.
Advertisement
A year later in the December 2021 Quarterly Update, the developers elaborated on the loot affix system by introducing a special NPC, the Occultist. Apparently, players will be able to use the Occultist's services to extract a Legendary effect from a Legendary item. This will destroy the item in the process and award an Essence of that effect that can then be used on any Legendary or Rare item to replace the fifth affix slot with no item slot restrictions. Players will no longer be as restricted by RNG when hunting for the best effects for their build, having the freedom to swap earned Legendary effects onto other items that may have a better array of regular affixes or a more preferred gear slot.
Advertisement
However, Blizzard has yet to confirm whether this Essence extraction service will come at a price, or what the unlock prerequisites might be. Fans will have to keep an eye out for more details — though hopefully, there won't be any more massive leaks.