Upcoming Game Sequels You Didn't Know Were Being Made
Mastering the art of marketing is a top priority for game franchises these days. Getting word out through traditional magazine publications, social media influencers, and blog posters about upcoming games can be paramount for success. Even so, it's easier to navigate the promotion of forthcoming games, specifically sequels, when your audience is already invested. A decent amount of money helps, as well. For example, some larger companies have adopted outside-the-box promotional campaigns to jumpstart the popularity of their newest games, like when Blizzard hired celebrity ambassador Megan Fox to hype up "Diablo 4."
Advertisement
But what about game sequels that don't have a huge marketing blitz or a Megan Fox to team up with? This list will give you a heads up about video game sequels currently in production, which you may have either missed or forgotten about due to delays. to educate about some of these looming game sequels that have flown too far under the radar.
Beyond Good & Evil 2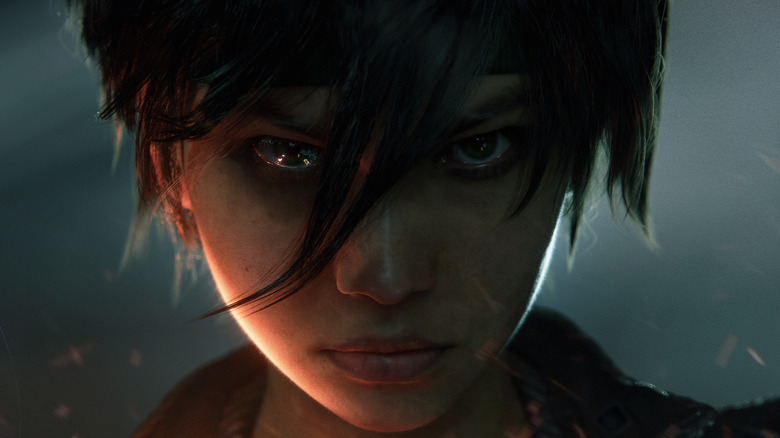 Ubisoft
After years in pre-production and at least one false start, "Beyond Good & Evil 2," the long-awaited follow-up to Ubisoft's sci-fi adventure game, is in full-on development. It's about time. Since 2003, Beyond Good & Evil has become the very definition of a cult classic, and fans have been dying to catch up with photojournalist-turned-hero Jade, her pig-like friend Pey'j, and the rest for over a decade and a half.
Advertisement
Thanks to a showing at E3 2018, we finally know how "Beyond Good & Evil 2" will play, too. Instead of controlling Jade, the ultra-delayed sequel will put you in charge of your own custom character who will start at the very bottom of the game's social system, and will slowly work his or her way up to the rank of pirate captain. Along the way, you'll recruit crew members, cruise around in a jetpack, team up with other players for co-op missions, engage in ship-to-ship dogfights, and more. The game also features some sort of shared world mechanic, a robust city simulation, and RPG-style leveling.
"Beyond Good & Evil 2" sounds really ambitious, and we'll see if the team can pull it off. They've certainly had the time. Oh, and while the game is a prequel, don't worry: Jade will return, although she might look a little different than you remember.
Advertisement
The Talos Principle 2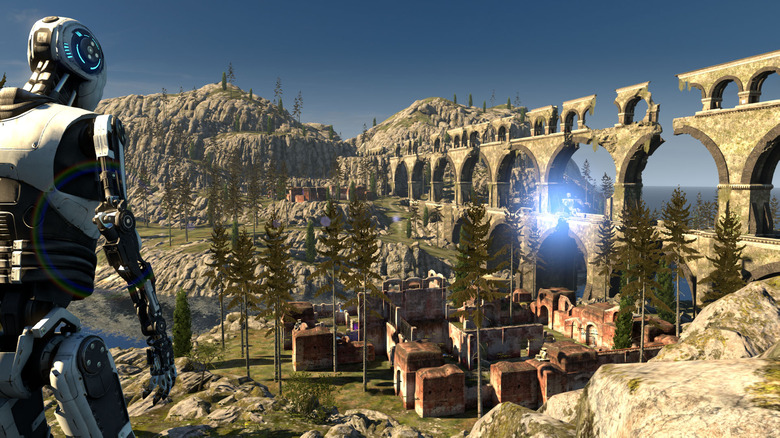 Devolver Digital
Of all of the narrative-focused first-person puzzle games that emerged in the wake of "Portal," "The Talos Principle" is one of the best. It's not as funny as Valve's iconic jaunt through the Aperture laboratories, but its take on philosophy is a lot more interesting than what you sat through in your Freshman year seminar, the post-apocalyptic storyline finds interesting ways to address some well-explored themes, and the puzzles are absolutely killer.
Advertisement
So, sure, we'll take more of that. The first game had a fairly definitive ending, but it seems there's more to explore. In "The Talos Principle," the puzzles are the main draw. If Croteam can deliver the same type of beguiling mazes that it did the first time around — and there's no reason to think they won't — you'll be in very good hands. We'll find out when "The Talos Principle 2" arrives later this year for PC, PS5, and Xbox Series X.
The Wolf Among Us 2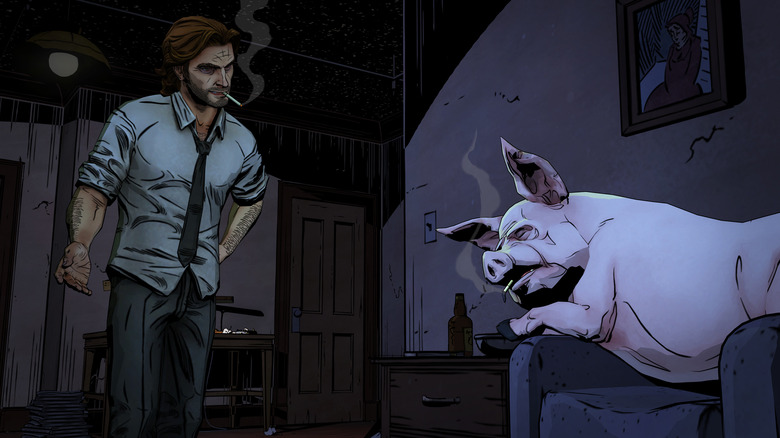 Telltale Games
"The Wolf Among Us" may not have had the same impact as Telltale's Choose Your Own Adventure-style take on "The Walking Dead," but the two franchises have a lot in common: They're both based on mature, critically-acclaimed comic books ("The Wolf Among Us" is a prequel to Bill Willingham's series, "Fables"), they've both got moody, cell-shaded graphics that reflect their ink-and-paper roots, and they're both packed full of gut-wrenching plot twists.
Advertisement
They're not exactly the same, though. While "The Walking Dead" has received a number of "seasons" and a handful of short spin-offs, "The Wolf Among Us" has long been a one-and-done. That'll change when "The Wolf Among Us 2" launches, plunging players back into the fairy tale-filled metropolis known as Fabletow, and reintroducing them to Bigby Wolf, town sheriff and reformed villain. Fans have been waiting for more "Wolf" for a while. In 2024, it sounds like they'll finally get it.
Armored Core 6: Fires of Rubicon
FromSoftware, the renowned developer responsible for "Elden Ring" and the "Dark Souls" games, have another franchise sequel up its sleeve coming out in 2023: "Armored Core 6: Fires of Rubicon." Dating back to 1997, the "Armored Core" games feature a few of the defining qualities of FromSoftware games. In particular, they put unforgiving mechanics and brutal learning curves up front, along with awesome enemies.
Advertisement
"Armored Core" players take on challengers as they pilot an omnidirectional mech that's been hyper-customized to their exact specifications. The last game in the series, "Armored Core 5," came out in 2012, with its standalone expansion, "Armored Core: Verdict Day," debuting in 2013. "Armored Core 6: Fires of Rubicon" will feature an online "versus" mode on top of its Story Mode, giving players plenty of opportunities to show off their skills behind the controls.
Masaru Yamamura, the lead designer behind FromSoftware's "Sekiro: Shadows Die Twice," is taking up the same role for "Armored Core 6: Fires of Rubicon," which should come as great news for Souls-like fans. Find out if "Armored Core VI: Fires of Rubicon" lives up to its predecessors on PS4, PS5, Windows, Xbox One, and Xbox Series X|S on August 25, 2023.
Advertisement
Ark 2
2015's "Ark: Survival Evolved," utilized a unique blend of survival mechanics, third-person shooting, and open-world exploration — and dinosaurs. Lots of dinos. 467 of them across expansions, in fact. "Ark: Survival Evolved" successfully borrowed mechanics from modern survival classics like "DayZ" while also foreshadowing the big game hunter aesthetics of later hits like "Monster Hunter World" and "Horizon Zero Dawn."
Advertisement
Sadly, the much-anticipated release of "Ark 2" has been the victim of multiple delays that have pushed it out to 2024. Its story follows the end of "Ark: Genesis – Part 2," the fifth DLC for the original game. The end of that DLC shows a glimpse of a clone of the player character being fired into the orbit of a new planet. This seemingly leads directly into the story of the sequel, in which the main character is played by Vin Diesel. 
That's right. Vin Diesel not only headlines "Ark 2," but also holds the title of President of Creative Convergence at game developer Studio Wildcard. It turns out that Vin Diesel is a die-hard "Ark: Survival Evolved" fan, with over 1,000 game hours logged, so he had to be a part of the continuation.
Advertisement
Fans will also be excited to know that "Ark 2" will have cross-platform, player-generated mod support. "Ark 2" will initially release on PC and Xbox Series X|S, complete with first-day availability for Xbox Game Pass subscribers. It is not yet confirmed if the game will release for PlayStation, but "Ark: Genesis" eventually made it over there, so there's a chance "Ark 2" will follow suit.
Metroid Prime 4
Back In 2017, only three months after the release of the Nintendo Switch, Nintendo began marketing "Metroid Prime 4." At E3 that year, a blue and black "Metroid Prime 4" logo announced the game's production. However, the game developers behind the "Metroid Prime" saga, Retro Studios, were not involved with the project — at least, not yet. Instead, Nintendo employed Bandai Namco Singapore to lead the development of "Metroid Prime 4."
Advertisement
2018 saw almost no development updates, other than Nintendo's reassurance that progress was steady. In 2019, however, Nintendo changed the direction "Metroid Prime 4" was taking. In an apologetic press statement, Nintendo Senior Managing Executive Officer Shinya Takahashi explained that the original concept was scrapped because "the current development progress has not reached the standard we seek." To get "Metroid Prime 4" development back on track, Nintendo handed the project over to Retro Studios, the team responsible for the franchise's success in the first place.
While fans have waited since 2017 for "Metroid Prime 4," Nintendo has continued releasing "Metroid" games. "Metroid: Samus Returns" came out for the 3DS in 2017, "Metroid Dread" followed in 2019, and "Metroid Prime Remastered" graced stores in 2023. The last update regarding "Metroid Prime 4" was provided during Nintendo's E3 2021 Direct. At the time, Shinya Takahashi said, "Currently, we're working hard on 'Metroid Prime 4.'"
Advertisement
Skate. (a.k.a. Skate 4)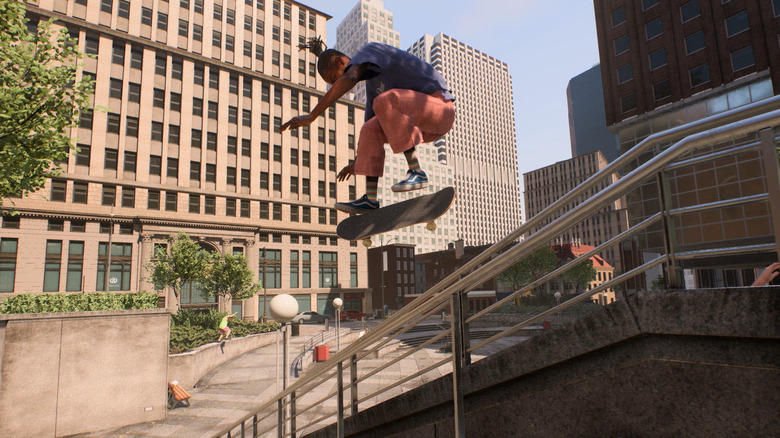 Electronic Arts
The "Skate" franchise premiered in 2007 with a unique physics-based control system. Unlike the "Tony Hawk Pro Skater" series that dominated the early 2000s, "Skate" did away with button-mashing combos in favor of more fluid, realistic, and creative movements tied to the player's balance of analog sticks. The release of "Skate 3" in 2013 signaled the franchise's end for a while — until the announcement of a fourth installment arrived in 2020.
Advertisement
This newest installment, initially called "Skate 4," and later changed to just "Skate.," has followed an unorthodox development path. As opposed to many other AAA-produced games, Full Circle, the developers behind the game, has allowed fans of the series a behind the scenes look at the development process via its YouTube channel. Not only has the studio shown off unfinished assets for the upcoming game, but the devs have also invited fan feedback over time. Gameplay videos for "Skate." started releasing in 2022 and have continued through 2023, showing off updated and polished takes on familiar "Skate" mechanics. All the grinds, flips, grabs, and other moves that fans want are all present. To fit into today's online landscape, "Skate." will also allow for 60-player multiplayer lobbies available.
Advertisement
Despite the constant updates, one thing has not been confirmed for "Skate.," and that's the release date. During EA's Q3 2022 earnings call, CEO Andrew Wilson said user-generated content is "the very center of the design of 'Skate,' which we'll be launching soon." While "soon" is a nebulous concept at best, at least "Skate." is on it's way — and it'll be free-to-play!
Path of Exile 2
"Path of Exile" is a free-to-play action RPG, reminiscent of classic "Diablo"-style dungeon diving. It features vast character customization options that entices players to create new characters to carry them through each League, seasons in which all characters start from scratch. Once a League finishes, those characters migrate to a permanent Standard or Hardcore League. Basically, "Path of Exile" constantly restarts itself to keep its content fresh.
Advertisement
However, the best way to keep content fresh is to create a whole bunch of brand new things to enjoy! First announced in 2019, "Path of Exile 2" promises to iterate on "Path of Exile," but not in the traditional sense of a sequel. Instead, "Path of Exile 2" is probably best viewed as a free expansion or massive update compatible with the base game. "Path of Exile" and "Path of Exile 2" will share an endgame, and any purchases made on a "Path of Exile" account will be made available for "Path of Exile 2" players.
"Path of Exile 2" features its own seven-act story campaign set 20 years after the first game. The expansion also promises to revamp skill the series' systems and classes. A gameplay trailer premiered at the PC Gaming Show 2023, giving fans a slight taste of the sequel's slowed-down, less-cluttered combat system. Now all fans need is a beta launch date.
Advertisement
S.T.A.L.K.E.R. 2: Heart of Chornobyl
"S.T.A.L.K.E.R. 2: Heart of Chornobyl" was initially announced in 2010 as the fourth game in the "S.T.A.L.K.E.R." series created by Ukrainian developers GSC Game World. However, financial problems at the time caused the studio to shut down. Luckily for fans of the cult classic survival horror series, GSC Game World reopened its doors in 2014 to produce "Cossacks 3" — and four years after, it announced the continuation of work on "S.T.A.L.K.E.R. 2."
Advertisement
At E3 2021, "S.T.A.L.K.E.R. 2: Heart of Chornobyl" released its official gameplay trailer and a planned release date of April 22, 2022. However, one delay followed another, and then the Russian invasion of Ukraine in 2022 entirely disrupted development. Work resumed on "S.T.A.L.K.E.R. 2: Heart of Chornobyl" in Kyiv later that year, but GSC Game World's geopolitical woes didn't end there. In early 2023, Russian hackers blackmailed GSC Game World to reinstate the game's Russian localization. GSC Game World responded with a Tweet asking fans not to engage with any leaked information.
A message from GSC Game World team pic.twitter.com/rqRM0tFZmO

— S.T.A.L.K.E.R. OFFICIAL (@stalker_thegame) March 12, 2023
Advertisement
Apart from its rocky development cycle, the game itself remains a highly-anticipated horror shooter. "S.T.A.L.K.E.R. 2: Heart of Chornobyl" promises a wide-open game world ripe for exploration. The game's Steam page maintains a tentative December 2023 release date.
Super Bomberman R 2
In 2017, 20 years after the last entry in the "Super Bomberman" sub-series, "Super Bomberman R" finally came out and revived the cult classic series. Hudson Soft, the original development company behind the first five "Super Bomberman" games, had shut down after merging with Konami in 2012. So, Konami and HexaDrive shared the developer mantle for "Super Bomberman R" and its short-lived mobile game companion, "Super Bomberman Online."
Advertisement
Konami is now the sole developer for the upcoming sequel, "Super Bomberman R 2." Announced during a June 2022 Nintendo Direct, "Super Bomberman R 2" promises four multiplayer battle modes: Classic, Grand Prix, Battle 64, and Castle Mode. Classic mode is exactly what it sounds like, hearkening back to the gameplay loop of classic "Bomberman" games. Grand Prix is a racing mode geared towards currency collection and opponent KOs. Battle 64 tosses 64 players into a battle royale free-for-all. Finally, the all-new Castle Mode is a team-based attack/defense match. Attackers in Castle Mode will hunt down keys to open treasure chests, while defenders will attempt to protect at least one of said chests. "Super Bomberman R 2" also allows players to create and share their own stages online.
Advertisement
On top of these modes, "Super Bomberman R 2" boasts a Story Mode that promises more exploration, base building, and challenging boss battles. Set to come out on September 13, 2023, "Super Bomberman R 2" will be available on PS4, PS5, Xbox One, Xbox Series X|S, Steam, and Nintendo Switch.
Homeworld 3
"Homeworld" and "Homeworld 2" are renowned real-time-strategy games from the turn of the century. They featured a unique 3D movement system for their starship combat. "Homeworld 2" received particularly high praise from critics, but the "Homeworld" IP remained dormant for over a decade until Gearbox bought the rights in 2013. In 2015, the release of "Homeworld Remastered Collection," containing updated versions of both "Homeworld" and "Homeworld 2," brought life back to the franchise. Riding the wave of renewed interest, "Homeworld: Deserts of Kharak," was developed by Blackbird Interactive and released in 2016. 
Advertisement
Announced in August 2019 by Gearbox, "Homeworld 3" received partial crowdfunding on Fig, only for Embracer Group to cancel that campaign when it acquired Gearbox in 2021. "Homeworld 3's" gameplay continues the series' patented 3D RTS space combat, utilizing persistent fleet mechanics that carry over all damage between missions. A brand new cooperative roguelike mode with persistent ship mechanics is also being added to the new game. According to a GameRant interview with a senior developer at Blackbird Interactive, the roguelike classic "Risk of Rain" inspired the addition of this new mode.
Following a few delays, Blackbird Interactive shared, "Our primary goal is to deliver a 'Homeworld' experience that lives up to the standards set by its predecessors and is worthy of the series' incredible legacy." At long last, "Homeworld 3" is now set to release in February 2024 as a PC exclusive.
Advertisement
Frostpunk 2
Survival civilization simulators took an icy turn in 2018 with the release of the original "Frostpunk," which casts players as society's decision-makers and pits them against the unrelenting and overwhelming cold. "Frostpunk" forces players to make hard decisions between human compassion and survival, with the goal being to produce enough heat for everybody to survive. Its tough learning curve and finely-tuned difficulty made it a strategy gamer's delight, while its unique aesthetics earned a 2019 BAFTA nomination for Narrative.
Advertisement
As a follow-up to one of the best city simulators released in the 2010s, "Frostpunk 2" has large shoes to fill. The developer behind the first game, 11 Bit Studios, promises more than just a simple sequel. In the game's initial announcement from 2021, "Frostpunk 2" Co-Director Jakub Stokalski shared, "We have more manpower available to focus on all aspects of the game from the scale, the production value, to the quality of UX." A significant focus of development is building upon the conflicts created by human nature. Instead of only thinking about food and fuel sources, "Frostpunk 2" will make those choices more intertwined with politics and technological progress.
At 2023's PC Gaming Show,  "Frostpunk 2" announced a "first half of 2024" release date for PC.
Advertisement
Vampire: The Masquerade - Bloodlines 2
"Vampire: The Masquerade" was the original 1991 installment in the "World of Darkness" tabletop RPG game world. Think "Dungeons and Dragons," but with heavily factionalized vampire clans. "Vampire: The Masquerade – Bloodlines," developed by Troika Games and released in 2004, is a video game adaptation of that world.
Advertisement
The long-awaited followup, "Vampire: The Masquerade – Bloodlines 2," was announced at GDC 2019, with Hardsuit Labs initially taking on development. The first game's narrative designer, Brian Mitsoda, was with the team at that point. In contrast to the game's current state of affairs, 2019 offered several updates, and a gameplay demo even came out at that year's E3. However, "Vampire: The Masquerade – Bloodlines 2" has since been the victim of multiple delays that have resulted in a complete change of development studios.
Paradox Interactive, the game's publisher and co-developer, has shared very little about the game's progress — not even the name of the newest studio working on the title. In June 2023, Paradox Interactive shared that development is continuing, along with plans to share more in September 2023. "We acknowledge it was a long time ago that many of you pre-ordered 'Vampire: The Masquerade – Bloodlines 2,'" the blog post reads. As such, Paradox is offering refunds to anyone who pre-ordered and doesn't wish to wait any longer. Not the most confidence-inspiring update, but hopefully fans won't have to wait much longer for updates.
Advertisement
Warhammer 40,000: Space Marine 2
Back in 2011, Relic Entertainment's "Warhammer 40,000: Space Marine" allowed players to live out their TTRPG fantasies of decimating hordes of Orks as an Ultramarine. It received modest reviews upon release, but fans of the series have waited over a decade to get their hands on a sequel, and that's exactly what new developer Saber Interactive has in store.
Advertisement
"Space Marine 2" was announced at the 2021 Game Awards, at which points fans got to see a trailer showcasing a Tyranid swarm overrunning the defenses of Imperial Guardsmen. The trailer culminates in the heroic Ultramarines — headed by the first game's protagonist, Captain Titus — arriving to save the day in spectacularly bloody fashion. 
In line with the 10th edition of the tabletop "Warhammer 40,000," the game takes place during the Fourth Tyranid War. It will also serve as a direct sequel to the original "Space Marine," as players take control of Captain Titus once again. Planned for a Winter 2023 release date, "Warhammer 40,000: Space Marine 2" will release on PC, PS5, and Xbox Series X.
Advertisement
State of Decay 3
Zombies, base building, and careful resource management make for addictive gameplay, which in turn led to the success of "State of Decay" and "State of Decay 2." Undead Labs, an independent studio headed by Jeff Strain, developed the series' first two games. Strain's name likely sounds familiar to gamers, as he previously worked on "StarCraft," "Diablo," and "World of Warcraft" at Blizzard Entertainment. The "State of Decay" series brought his vision of an open-world zombie RPG to horrific life.
Advertisement
After the success of "State of Decay 2" in 2018, Strain surprised everyone at Undead Labs by selling the company to Microsoft. Xbox Game Studios brought Undead Labs into the fold, and Microsoft in turn announced "State of Decay 3" during 2020's Xbox Games Showcase. However, during development, developers began to speak out against the toxic work culture at the studio, after which point updates on the game slowed to a crawl. Still without an official release date, "State of Decay 3" is expected release on Xbox Series X and PC.