Diablo 4 Has An Unexpected Ambassador In Blood-Loving Bombshell Megan Fox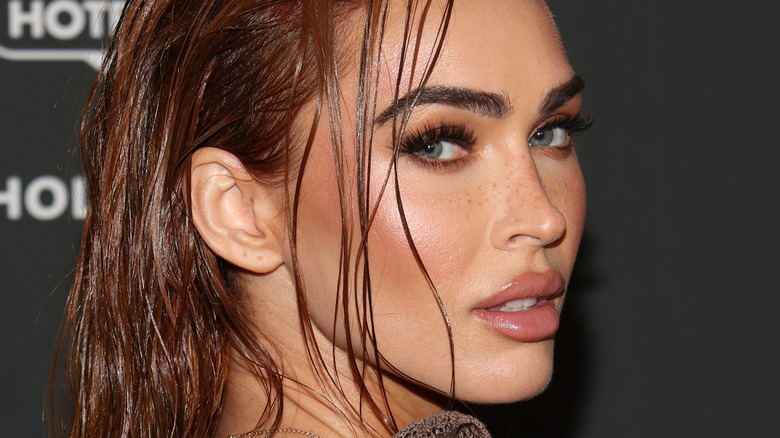 Alberto Tamargo/Getty Images
The "Diablo" franchise is known for a few awesome hallmarks, including its extensive lore and its surprising levels of violence. The latest game in the series, "Diablo 4," is receiving high marks from critics and fans, despite a few issues with servers on launch day and the introduction of new microtransactions. As it turns out, "Diablo 4" has more surprises up its sleeve than just a cosmetic shop — and its biggest surprise yet has arrived in the form of Megan Fox.
Advertisement
The actress, best known for her starring roles in the big budget "Transformers" films and cult classic horror-comedy "Jennifer's Body," is also apparently a fan of "Diablo." That's why she's joined forces with Blizzard for a surprising new promotional campaign. "Diablo 4" wants to know your best death stories, and players who impress Megan Fox and Blizzard with clips of their spectacular failures will be eulogized by Fox herself.
Necromancer Megan Fox wants to hear your tales of Diablo woe
Blizzard
"If there's one thing I love, it's the sight of blood, and in 'Diablo 4,' there are rivers of it," Fox says in the video, which features her in a spooky candlelit graveyard. "Show me your worst in-game death with #DiabloDeaths and you might get a eulogy from yours truly, telling the world that you went out like a hero — or a chump."
Advertisement
#DiabloIV is here, embrace the bloodshed.

Share videos of your in-game death on Twitter or TikTok using #DiabloDeaths for a chance to have your eulogy read by @meganfox on June 8th. pic.twitter.com/dSgG2yuNbS

— Diablo (@Diablo) June 6, 2023
Starting June 8, Megan Fox will be reading off all of the best eulogies for "Diablo 4" deaths submitted by fans through Twitter or TikTok. Considering how gory the latest installment in the series can get, fans can look forward to plenty of creative deaths recited by the actress in the days to come.
The commercial alone has proven to be a big hit with fans, including Twitch streamer Asmongold, who quipped that it proves Blizzard "know[s] their audience." It should be interesting to see how successful this unorthodox campaign will be for Blizzard, and if we can expect to watch other celebs eulogizing players in the future. 
Advertisement
Can you imagine other celebrity "Diablo" fans — perhaps pop superstar Halsey? — mocking fallen players in future videos? Heck, who's to say this should be exclusive to "Diablo?" After all, everyone loves watching T-Pain roasting players in "Call of Duty."