PewDiePie Is No Longer YouTube's Most-Subscribed Content Creator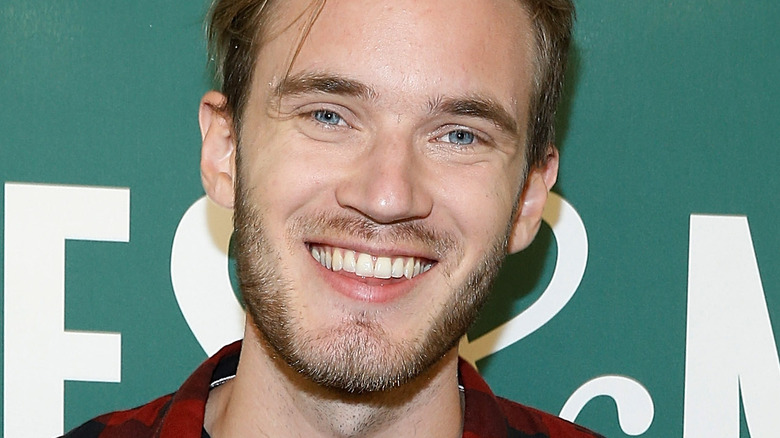 John Lamparski/Getty Images
It's finally happened. PewDiePie has been knocked from his throne after years of enjoying the most subscribers on YouTube. PewDiePie has held the position for years as one of the few individual content creators to earn millions of followers, building up his brand from the ground up. Channels like T-Series, an Indian music channel, and Cocomelon, a children's song channel, have both surpassed PewDiePie's numbers in the past — and he even created epic diss tracks against the companies during some of his most notorious feuds. However, PewDiePie was still the individual content creator with the most subscribers – until now.
MrBeast has rocketed to the top of the YouTube charts rather rapidly, making a name for himself with over-the-top videos featuring massive giveaways. His content often involves elaborate setups – like his "Squid Game" recreation – and potentially huge prizes for participants. MrBeast is, in some ways, a modern day game show creator, concocting extravagant challenges to distribute prizes, all in the name of entertainment. The end result is a lot of fun for his many fans, and his videos earn millions of views on YouTube.
Even though PewDiePie and MrBeast have a friendly relationship, many are eager to see how the pair reacts to the news that MrBeast has finally won the top spot. Others accepted that this day was coming long ago.
The internet knew this was coming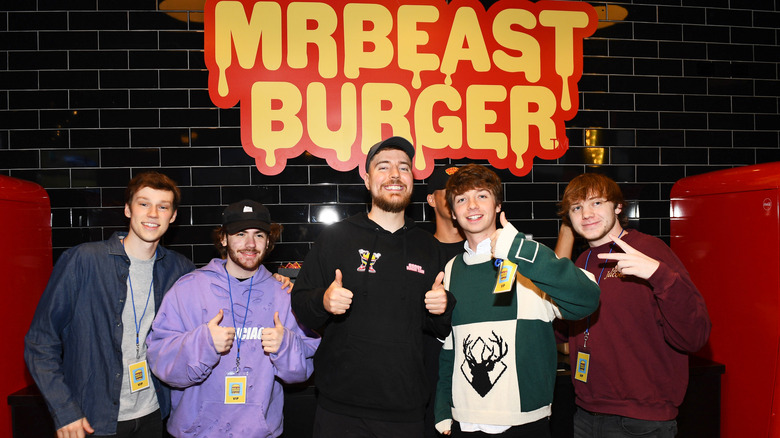 Dave Kotinsky/Getty Images
Earlier this year, MrBeast announced that he was working on a big project that he'd share once he inevitably passed the 100 million subscriber mark. The project was kept a secret, and fans had to jump through some hoops to figure out how to watch the celebration video. MrBeast fans who bought specific merch from his shop could log on to view the 100 million subscriber video, in which he gave his 100 millionth subscriber an island. However, the 100 million mark wasn't enough to beat out PewDiePie. That milestone would come later.
MrBeast's numbers continued growing over the course of 2022, and he even saw some lucky repeating numbers on Nov. 11. The YouTuber shared that he had 111,111,111 subscribers on 11-11, which he interpreted as a good sign. A few days later, on Nov. 14, several news outlets, including Dexerto, began reporting that MrBeast had officially passed PewDiePie in subscribers, clocking in at over 111,150,000 individual followers. So far, neither PewDiePie or MrBeast has responded to news, but they've addressed the possibility in the past.
When it seemed inevitable that MrBeast would surpass PewDiePie in followers a few months back, PewDiePie revealed what he really thought about the situation. He explained, "Come on, I've been retired for like two years now. I can't wait for it to be over. His fans are infiltrating my comments ... He definitely deserves it. I hope he does it." Even though the creator hasn't really retired, as he continues to make and upload content, he's definitely slowed his pace over the past few years, taking more time to enjoy life in his new home in Japan.
The creators themselves may not have spoken out about the news yet, but fans have definitely made their voices heard — and some even question the validity of the achievement itself.
Fans sound off about MrBeast's achievement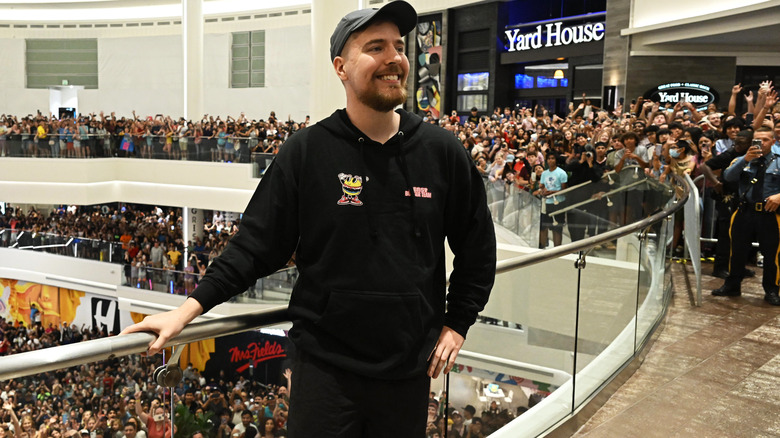 Dave Kotinsky/Getty Images
Though most Twitter users seemed excited for MrBeast, some questioned whether his subscriber count should be calculated in the same way as PewDiePie's. YouTuber Rushin tweeted, "At what point do we consider MrBeast an organisation like T-Series? He has hundreds of employees now." Full Squad Gaming's Jake Lucky, who had originally tweeted to celebrate MrBeast's, responded that the question was a fair one. While PewDiePie and MrBeast both had humble beginnings on the platform, MrBeast's videos have grown to a larger scale, seeing him host extravagant giveaways and events, while PewDiePie has remained relatively isolated in his content, continuing to post reaction videos and other content he can film from home. Though neither form of content is inherently better, MrBeast's does require a larger crew to execute. Some made the argument that even though MrBeast is still the face of his channel, he's representative of a brand – much like Cocomelon or T-Series – instead of an individual content creator.
Many fans just wanted to tweet hearty congratulations to MrBeast, celebrating his achievement as well as PewDiePie's time as the most-subscribed creator. One fan even suggested that MrBeast's numbers indicate a change in the types of content that become popular on YouTube. "Feel like this is a passing of the torch to the new era of YouTube where quality beats quantity and megaprojects are the way instead of casual videos," they said.
Fans of both creators will have to wait to see how they react to the news, but in the meantime, there's plenty of celebrating going on online.