How To Watch MrBeast's Secret 100 Million Subscriber Celebration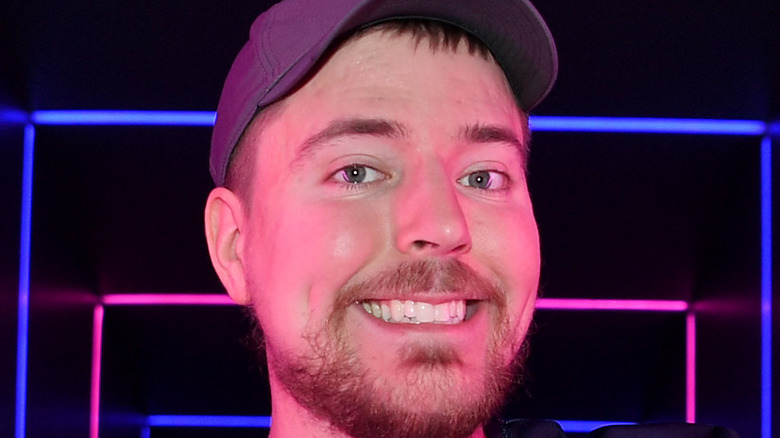 Denise Truscello/Getty Images
Having initially began his climb to fame simply by counting to 100,000, YouTuber MrBeast has gone on to become one of the most popular content creators due to his high production values, challenges, and giveaways. The 24-year-old internet sensation does major damage to his bank account when it comes to his videos and has created successful content that includes a real-life recreation of "Squid Game" – he even recently built Willy Wonka's Chocolate Factory. After years of creating high quality content, MrBeast finally hit 100 million subscribers on YouTube.
MrBeast celebrated this impressive feat by releasing a video in which he gave several of his subscribers the opportunity to win their own island. However, that's not all he's done to commemorate such a monumental occasion. In celebration of hitting the 100 million mark, MrBeast has also uploaded a video that is completely private and unavailable to the general public. Should anyone want to see this exclusive piece of content, some parameters must be met. Here's how you can watch MrBeast's secret 100 million subscriber celebration.
Access to the video requires fans to purchase merch
During a video where MrBeast hosted a competition for subscribers to win their own island, he announced his exclusive "100 Mil Club" merch, which is said to be possibly the only merch drop he will have all year. The "100 Mil Club" line is limited to only two shirts, both containing references to MrBeast and his 100 million subscriber accolade. And if fans of the YouTuber's content want to view his secret video, one must buy either one of these shirts.
In a since-deleted tweet, MrBeast revealed that the private video is of a challenge where the YouTuber goads eight friends over to his house under the guise of needing help (via GameRant). However, MrBeast reveals that each of these eight friends are now unknowingly embroiled in a challenge where the last to leave the house gets to keep it. 
MrBeast has hosted contests similar to this before. In October 2021, the YouTube giant uploaded a video called "Last To Take Hand Off Lamborghini, Wins It" in which 50 people had to keep their hands on a Lamborghini in order to win the car, which was valued at $300,000. Fans have a limited amount of time to act on the deal, so they should move quick if they want a peek at the secret video.