Xbox Boss Says Its Streaming Device Is Still A Long Way Away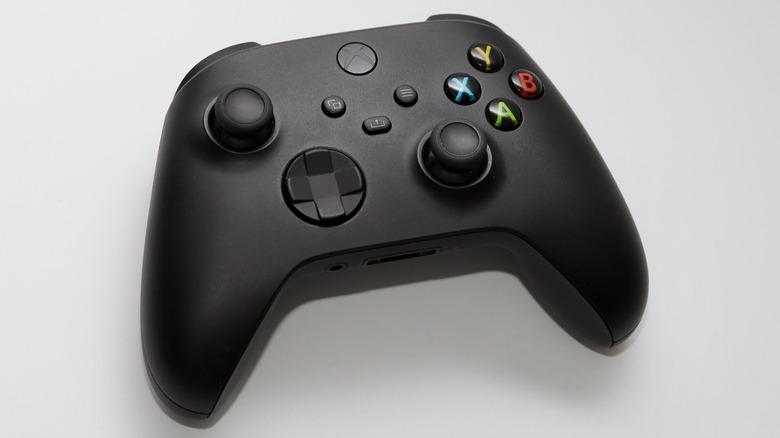 AlexandreSheva/Shutterstock
Xbox and the newly-titled Microsoft Gaming have been in the hot seat recently. Considering the US government has gotten involved with Microsoft's acquisition of Activision Blizzard and an investigation in the deal may cause it to go under in the UK, a lot of eyes are on Microsoft and Xbox. CEO of Microsoft Gaming, Phil Spencer, recently spoke to The Verge about some of the company's upcoming plans, and he gave an update on the rumored Xbox Keystone. Unfortunately, it's not coming out as soon as anyone hoped.
Project Keystone is the codename for Xbox's version of a cloud gaming stick that could work on any TV. Think of a Roku, but make it gaming. It was announced to be in the works, but fans haven't heard anything (although they thought they spotted it in Phil Spencer's room last month). While speaking with The Verge's podcast, "Decoded," in 2020, Spencer said that the streaming stick would be rolled out within a year.
Fast forward two years and it's still not released. When asked about it again on the same podcast on November 15, he explained that it just couldn't happen at this time. However, the Keystone was already created and played incredibly well – there's just the small issue of price.
The price of making Keystone is too much
According to Phil Spencer, the cost of making Keystone was more expensive than the team at Microsoft Gaming wanted it to be. Even though it worked "really, really well" in his words, the hardware cost too much for it to be sold at a price point that Spencer was comfortable with. This was further complicated by the fact that the team wanted to include a controller with the Keystone.
While he didn't give an exact number, he pointed out that it would be in the ballpark of $129 or $99. Because Xbox already has the Series S priced at $299, the price of the Keystone needed to align with the differences between the console and the streaming stick. Therefore, the project has been put on the back burner until they can make it at a lower cost. Instead, the team is looking at completing a TV app for Samsung TVs.
On one hand, fans can rest assured that they're going to get a quality streaming stick when it is released – Microsoft Gaming isn't trying to cut corners and use cheaper hardware to push the item. However, it does mean that fans will have to wait for who knows how long until hardware prices come down to a place Spencer feels comfortable with.