Fallout: New Vegas Director Would Consider Doing A Sequel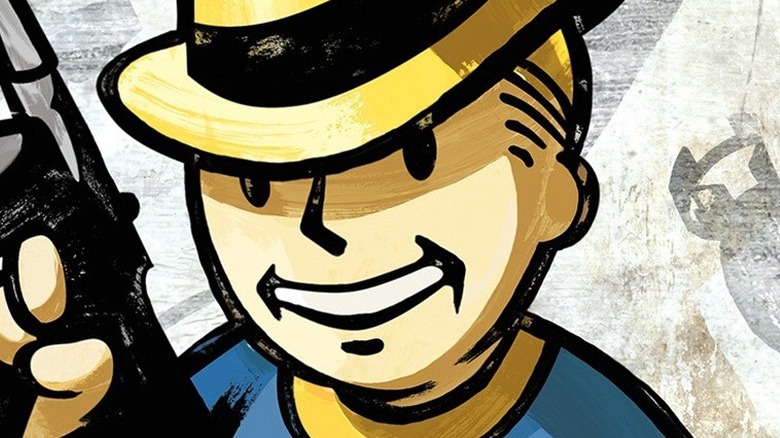 Bethesda
The post-apocalyptic RPG "Fallout" series has been pretty hit or miss since the first-person perspective was introduced in "Fallout 3." It's hard to argue that "Fallout: New Vegas" is anything but one of gaming's most revered roleplaying FPS games, though, and it still has a thriving fanbase that keeps the 12-year-old game alive and relevant. After "Fallout: New Vegas," the series took a five-year break until "Fallout 4," which wasn't quite as well received, then "Fallout 76" had some questioning the future of "Fallout."
It's safe to say that "Fallout: New Vegas" holds a special place in fans' hearts, many of whom have wondered if the series would ever return to the Mojave Desert or bring back its classic RPG mechanics. As a guest on Kinda Funny Games' Xcast, "Fallout: New Vegas" director Josh Sawyer primarily discussed Obsidian Studios' recent stylized historical game "Pentiment," and fielded questions from fans towards the end of the podcast. 
One viewer asked whether Sawyer could ever see himself working on another "Fallout" project. After lots of leaks and rumors about "Fallout: New Vegas 2" this year, the question isn't totally unwarranted. Sawyer said he "could see himself working in it again," and elaborated on his ideas for a theoretical follow-up to "Fallout: New Vegas."
Where Fallout could go from here
Josh Sawyer talked about his history with the "Fallout" franchise, going all the way back to his college days when he played the first two top-down games. Interviewer Mike Howard asked about which locations Sawyer would like to focus on if he got the chance to work on another title. Sawyer said he's heard fans talk about New Orleans, California, and the U.S. Midwest as great choices. "People have also talked about 'Fallout' in the rest of the world, I think those are interesting as well," Sawyer said.
"I'm a big believer in finding things that ... the team is really excited about, and also that works within the larger idea of the property, " Sawyer explained, explaining that Obsidian's recent game "Pentiment" was a great opportunity to make decisions without worrying about fitting into an established world. 
The series most likely won't return to "New Vegas" anytime soon, but the door isn't totally closed — at least not completely for Sawyer. "I love 'Fallout,' I love the setting ... but, you know, we'll see where the future takes me," Sawyer said.