Xbox Fans May Have A Hard Time Getting A Series X This Holiday Season
Miguel Lagoa/Shutterstock
The holidays are quickly approaching, and, typically, that's good news for video game enthusiasts. Black Friday and Cyber Monday reliably have an assortment of tech and gaming deals, and December is no stranger to gaming deals either. However, this year it could be a bit trickier for those still wanting to acquire either an Xbox Series X or a PlayStation 5.
In regards to console sales, PlayStation has been outpacing Xbox in a major way and, earlier this year, Sony made an exciting claim about PS5 stock becoming more stable. However, that likely won't be until 2024. Which is a tad too late for this holiday season. Both Sony and Microsoft have encounter a number of supply issues and next-gen scalper problems, but is Microsoft faring any better than Sony in preparing for 2022's holidays? From the sounds of things, the answer to that is both a yes and a no.
Demand will likely outweigh supply this holiday season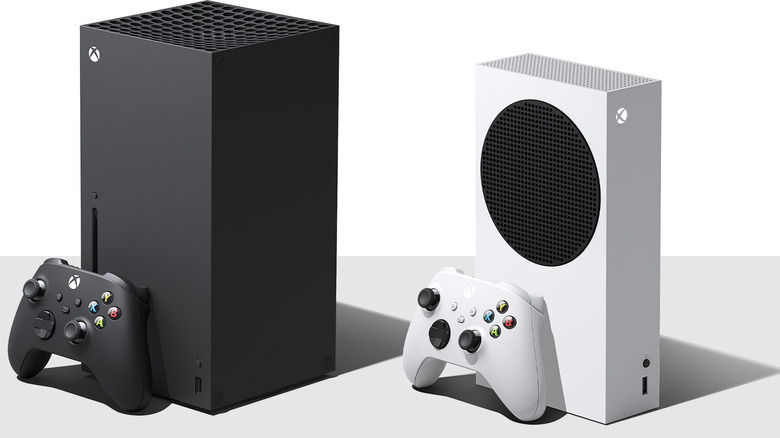 Microsoft Corporation
In an interview with The Verge's Nilay Patel during an episode of Decoder, Phil Spencer took the time to talk about the acquisition of game studios, Microsoft's commitment to keep "Call of Duty" on PlayStation, and, of course, the current state of supply issues that have been plaguing the Xbox Series X.
In response to a question from Patel regarding reported increases of GPU chip availability, Spencer had the following to say: "We are seeing supply strengthen for us, and demand has not really weakened. All along, while we focused a lot on the supply chain during those first two years of the console generation for us, demand has never been higher for us on Xbox." This is good news for Microsoft of course, but those hoping to acquire an Xbox Series X of their own aren't necessarily out of the woods yet. Spencer continues, "That demand doesn't really seem to be slowing down much. The fact that we're starting to see more supply come in is why I said you're still going to see X vacate the shelves pretty quickly. We are definitely seeing supply ease up. I suspect as we get into 2023, touch wood, you will see consoles on the shelf when you walk in the store." Seeing the supply increase by 2023 isn't necessarily what one wants to hear if they were hoping for a holiday season of next-gen console gaming.
Of course, it isn't the enormous, powerful, and disc-compatible obelisk that players may want to snag this season, but the Xbox Series S, Microsoft's cheaper and tinier entryway into next-gen consoles, sounds like it will be in good supply thanks to its new Holiday 2022 Edition offered at a temporarily reduced its price.