Fortnite: Where To Find Agent Jones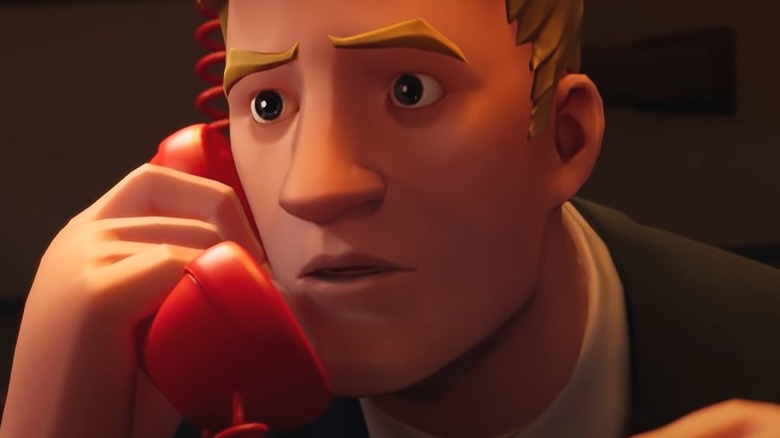 Epic Games
The end of Chapter 3 of "Fortnite" is right around the corner, but there's still time to take part in its narrative and even meet an old friend who's been missing for some time. 
Agent Jones, also known as Jonesy, is an iconic character who has been central to the plot of "Fortnite" from the beginning of its timeline. The immortal soldier regularly pops up for interactions with players and has helped save the day numerous times. However, he's been missing for the past year with his whereabouts unknown. Fans may be happy to know that Agent Jones, a.k.a. Jonesy, has returned with the release of the latest update for the game. 
His reemergence seems to be setting things up for the big finale of Chapter 3 and the role Jonesy will play in it. With this in mind, fans will likely want to find and interact with him while they can, before the Chapter wraps up. Fortunately, while he's been hidden for some time, finding Jones now won't be too difficult.
Find Agent Jones at Fort Jonesy
Quite appropriately, Agent Jones can be found at Fort Jonesy, the location named for him on Artemis Island. Fort Jonesy is located on the southeast of the Island. Players can drop into this area with relative ease at the start of a match. Once there, it's simply a matter of tracking the wayward agent down as he roams the fort.
It shouldn't take very long to find him, since Fort Jonesy is largely an open space and isn't particularly big. Players can keep an eye out for a speech bubble which may give away Jonesy's position before he can actually be seen. At any rate, once he's been located, players can interact with him to have a short conversation and even purchase some items.
The latest Chapter of "Fortnite" is set to come to an end with the "Fracture" event, which kicks off on December 3 at 4 PM ET (1 PM PT). So far, Epic Games hasn't shared much info about what the event will involve or how the world of "Fortnite" and its characters will change. With Chapter 3 coming to an end, players should take the opportunity to meet agent Jones now, because the finale is sure to shake things up in ways that can't be predicted. Who's to say Jonesy won't go missing again?