Sonic Frontiers Fans Get The DLC They've Been Asking For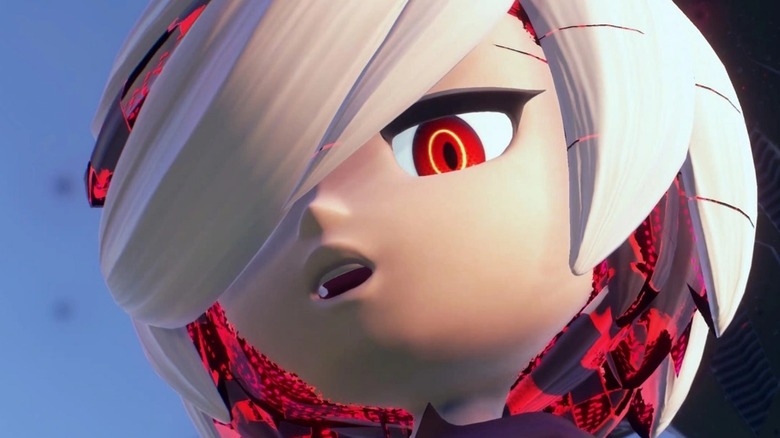 Sega
"Sonic Frontiers" had a mixed reception from critics and a serious Dunkey-related problem that might have turned off newcomers from the open-world Sonic adventure. On the bright side, fans who stood by it are in for a treat after the new year. Sega posted a "Sonic Frontiers" 2023 roadmap with detailed information about what it's adding to the game in a three-part rollout. 
On the official Sonic the Hedgehog Twitter, the "Sonic Frontiers" roadmap specified that the first update would include a Jukebox, Photo Mode, and new Challenge Modes. The second update, which coincides with Sonic's birthday, adds an Open Zone Challenge and a new Koco. The year finishes off with new playable characters and a new story. All these updates are free for those who have already purchased "Sonic Frontiers." The nonexistent price tag was impressive in and of itself because of how often games like "Soul Hackers 2" and "Fire Emblem: Three Houses" charge for additional content, even if some fans admitted they would be excited for the DLC anyway, regardless of how much it might cost.
"AND IT'S ALL FREE?!" one fan wrote, incredulous. "Nah pack it up boys GOTY discussion is over." The accompanying meme showed two characters masquerading as "Elden Ring" and "God of War Ragnarok" being chased off-screen by another character as "Sonic Frontiers."
Here's what fans had to say about the upcoming free "Sonic" DLC.
Always say yes to more Sonic
Many fans weren't just excited by the prospect of free DLC, but the DLC itself. One commenter highlighted that it would be the first time in years that both Tails and Knuckles would be available as playable characters. Another was excited at the thought of Amy finally getting some spotlight, and another asked for Rouge and Shadow next. Meanwhile, others commented that Update 3, which would add the new characters and story, was the highlight of the announcement in general. 
"I think we can all agree that this is the most exciting part," one commenter wrote. Other comments in the same thread, as well as all the 2,000-plus likes on the post, seemed to agree.
No concrete dates have been released for the "Sonic Frontiers" 2023 roadmap, and it also notes that the content and names can change "without notice."
"Sonic Frontiers" is available for PlayStation 5, Nintendo Switch, PlayStation 4, Xbox One, Xbox Series X and Series S, Microsoft Windows. If you try it out for yourself, try switching to 60 FPS mode for smoother on-screen motion. Better yet, review the best and worst features in "Sonic Frontiers" so you know what to expect for your playthrough.