You Can Play As GTA 6's Main Character In GTA 5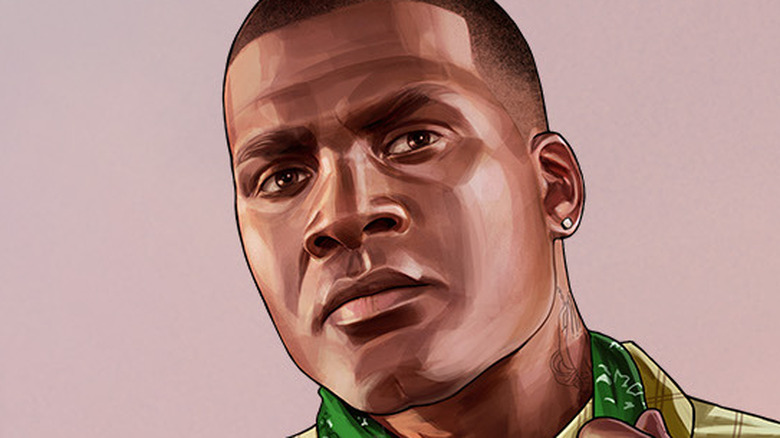 Rockstar Games
Fans have not learned much about the protagonist — or, rather, protagonists — of "Grand Theft Auto 6" since they were first revealed earlier this year. Bloomberg described the characters — named Jason and Lucia — as being influenced by real-life notorious duo Bonnie and Clyde. After no official news for months, the massive "Grand Theft Auto 6" leaks on September 18, 2022 made the GTA fanbase lose its collective mind.
The videos and pictures included in the leak gave an extremely early look into the current state of "Grand Theft Auto 6," and a glimpse at the game's graphics — as well as Jason and Lucia themselves. Lucia is the first female protagonist in the series since "Grand Theft Auto 2," and the first Latina protagonist in the series. Her model is featured a lot in the "Grand Theft Auto 6" leaks, but it's very rough around the edges. Now, a few months on, a mod developer for "Grand Theft Auto 5" has released a mod that lets fans play as Lucia in "Grand Theft Auto 5" using a custom model based on the version seen in the leaks.
The custom Lucia model is pretty accurate to the leaks
In the leaks, Lucia's model is pretty obviously unfinished. Some fans were worried by the graphics of "Grand Theft Auto 6," but the leaks depicted a version of the game far before it was ready to be unveiled to the public. Lucia's model still looks relatively good in the leaks, despite its in-development status. 
The mod, created by Sergio Van Dyk, was directly based on her appearance, though its direct inspiration does also reflect the differences between the two games' graphical capabilities. In "Grand Theft Auto 6" her model looks rough around the edges, sure, but in "Grand Theft Auto 5" Lucia's hair and light are noticeably less realistic, to no fault of the mod maker — the game did come out in 2013, after all. 
The mod only includes Lucia as a new playable "Grand Theft Auto 5" character, though she wasn't the only one whose model was revealed in the leaks. Her partner-in-crime Jason, the other playable character in "GTA 6," is seen in a few clips — he wears a red and white hat backwards and grey tank top, confirmed to be him by development data on screen. Rockstar has yet to officially unveil "Grand Theft Auto 6," but in the meantime this mod might tide over ravenous fans who've been waiting for a decade for any "Grand Theft Auto 6" content.