How To Get The Geoff Keighley Mask In Among Us
"Among Us" is no stranger to crossovers, and has offered players the ability to customize their crewmate with references to other games and media in several updates. Many of these special cosmetics are only available for a limited time, but some come back again for players to collect temporarily. Some of these references are pretty well-known, like the "Scream"-inspired visor cover or Jason Voorhees' hockey mask, but others are a bit more esoteric, like the numerous references to the "Henry Stickmin" games. 
One mask particularly stands out from other cosmetics in "Among Us" because it depicts a totally un-stylized, photo cutout of a real person's face — in this case, Game Awards host Geoff Keighley. The visor cosmetic is called "My Name Geoff," itself a reference to a scene in "22 Jump Street," and depicts a rendering of Keighley's face on a mask hung over the crewmate's head with string. 
The mask is a regularly recurring cosmetic that was previously tied to the 2020 Game Awards and the 2021 Summer Games Fest. The window of opportunity for players to snag one of these unique "Among Us" masks tends to be very, very short. Here's how to get the My Name Geoff mask in 2022 — and a refresher of why you might want your crewmate to cosplay as Geoff Keighley.
Geoff Keighley has been a famous face in gaming since well before The Game Awards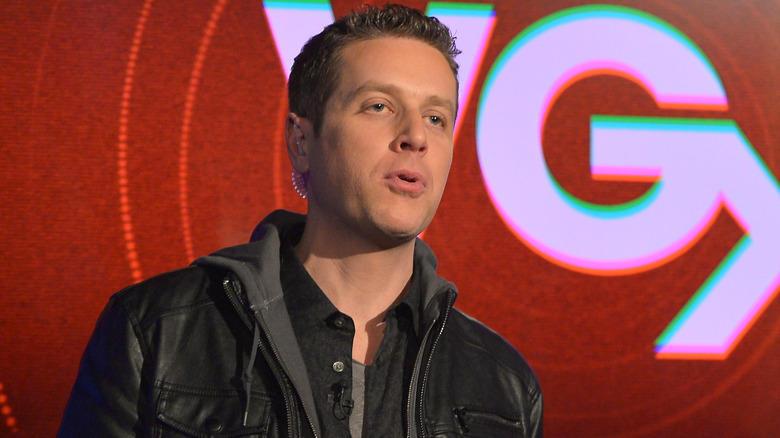 Charley Gallay/Getty Images
A game journalist at heart, Keighley has covered the goings-on in the gaming industry since the 90s. He previously served as the lead anchor for E3 coverage at G4, and began hosting game awards at Spike TV back in 2006. In 2014, the year after he left Spike's Video Game Awards, he created The Game Awards, which quickly became one of the most popular annual events in the video game industry.
Keighley has been a recognizable face in gaming for the better part of two decades, and his "Among Us" mask isn't even the only surprise appearance he's made in other media. He had a holographic cameo in "Death Stranding," he played one of the singing busts in the "Muppets Haunted Mansion" Disney+ special, and even had a cameo in "The Matrix Resurrections." But even without knowing anything about him, the mask is hilariously out-of-place in the cartoony environments of "Among Us," and its novelty is well worth tuning into The Game Awards to acquire. Here's how to do it.
How to get the Geoff Keighley mask - and other rewards from the Game Awards
To get the Geoff Keighley mask, fans only need to do two things: Create or log into a Twitch account and tune into one of the officially partnered Game Awards streams for an hour — its that simple. On the Game Awards site, a list of eligible streams can be found at the bottom of the viewer rewards announcement page. This list includes co-streamers like Asmongold, Jesse Cox, and plenty of others, as well as the official Game Awards and Twitch Gaming channels.  After the required 60 minutes of viewing The Game Awards is up, viewers will receive a message in their inbox with codes for a variety of in-game rewards and even entire games. 
That's right, the Geoff Keighley mask isn't the only thing players can unlock by watching The Game Awards. "Rogue Legacy" is unlocked in its entirety on the Epic Games store, as well as "Cult of the Lamb" emotes, "Warframe" boosters, a "Fall Guys" skin, a free upgrade to the Deluxe Edition of "Sifu," but only for those who already own the base game. 
All of these rewards aren't unlocked separately or tiered according to how long fans watch The Game Awards — they're all unlocked simultaneously, making it one of the best parts of the event for fans of these games. This year's Game Awards starts at 7:30 ET on December 8, so tune in and watch that Twitch inbox notification for the Geoff mask and the other rewards.