Markiplier Is Judging His Supporters After They Crash OnlyFans
Alberto E. Rodriguez/Getty
Almost a decade ago, reality television star and influencer Kim Kardashian posed for a pictorial for Paper Magazine that bore the headline "Break the Internet." The photoshoot quickly became a sensation, blowing up over night and igniting discourse and controversy over some of the racier photos on display. All in all, the shoot became a much bigger deal than anyone involved could have possibly imagined (per The Guardian). Well, it seems like YouTuber Markiplier is the latest in a proud line of internet-breakers, because the launch of his new OnlyFans page almost immediately sent the site spiraling into overload.
Markiplier has been teasing this potential foray into more adult-oriented content for quite some time. Back in 2018, the internet personality celebrated reaching 20 million YouTube subscribers by releasing a calendar of "Tasteful Nudes." The photos in this calendar combined his quirky sense of humor with some mildly provocative naked poses. Some of the photos in this calendar included characters he's portrayed on his channel, like the spooky Darkiplier, while others tied more directly into the month at hand, including shots of him made up like Cupid. The calendar was a grand success and all of the proceeds went towards a donation to the Cancer Research Institute.
In recent months, Markiplier told his followers that he wanted to organize something similar for charity, but there was only one way he'd ever create an OnlyFans account: He wanted fans to help boost his podcasts' download numbers, bringing them to the top of the charts on Apple Podcasts and Spotify. His fans happily obliged and then waited patiently until the OnlyFans account went live. It seems people got a little too excited, because they fully crashed the website upon its release. In response, Markiplier made a hilarious post that showed he judged his fans just a little.
Markiplier breaks the internet
A few days ago, Markiplier tipped fans off to the fact that the OnlyFans launch was imminent, tweeting just the word "tomorrow." The replies were filled with fans asking for more information, making memes, and even a few trying to talk Markiplier out of the whole endeavor. But at this point, the YouTuber would not be deterred. The next day, Markiplier's OnlyFans account was official launched — and some unexpected hilarity ensued.
First up, Markiplier posted a video excitedly announcing the arrival of his OnlyFans page. "Today's the day," he ominously announced in the clip. "My OnlyFans is now available through the link in the description below, as promised. The deal is now complete." He also made a joke about the wait for the content to arrive, remarking, "Sorry it was late. I wasn't able to get into my office until just now. For reasons that shall remain unknown, because no one is listening to me anymore."
Almost immediately after Markiplier's OnlyFans page went live, fans apparently rushed to see what all the hubbub was about. In doing so, the sheer volume of visitors overwhelmed the site's servers and the page went offline. With a mix of pride, amusement, and embarrassment, Markiplier took to Twitter to share this fact with his followers. The YouTube star posted a photo of his computer screen displaying the out-of-commission OnlyFans page. His only comment on the event: "...really guys?"
…really guys? pic.twitter.com/74XVt7jAUB

— Mark (@markiplier) December 9, 2022
Markiplier's OnlyFans is going to some great causes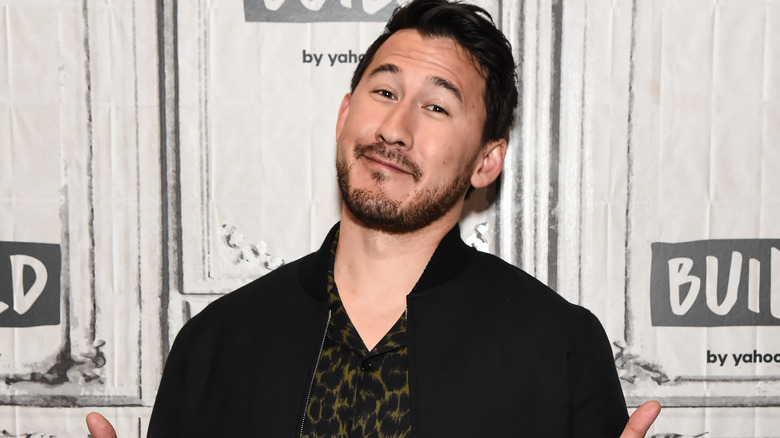 Daniel Zuchnik/Getty Images
Markiplier's incredulous post was met with more jokes and memes, as well as plenty of thirsty comments. And of course, some folks were just happy to be able to contribute to a good cause! 
That's right; all joking aside, a lot of people are going to benefit from the resounding success of this new OnlyFans venture. All proceeds from Markiplier's account will be going to aid Cincinnati Children's Hospital and the World Food Program, the latter of which is an organization dedicated to combating global famine. As Markiplier quipped in his announcement video, he chose the World Food Program "because if you're going to quench your thirst, we might as well try to feed some people."
Considering enough people migrated to the page to make it crash, both the hospital and the WFP can probably expect sizable donations in the near future. According to Markiplier, this weekend's release of photos is just the first of three planned drops, so fans can still look forward to plenty of tastefully spicy content. This continues a banner year for Markiplier, who was also nominated for an Emmy award for his "In Space with Markiplier" series just last month. It remains to be seen whether or not Markiplier will attempt something like this latest OnlyFans drop in the future, but the demand is clearly there and the content creator is on a roll.